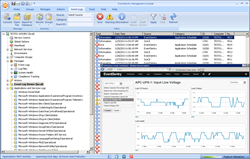 With this release we are entering a lot of new territory, and EventSentry users will have unified view of their networks – regardless of the Operating System.
Chicago, IL (PRWEB) December 11, 2013
NETIKUS.NET today announced the general availability of EventSentry v3.0, a major upgrade to its log, compliance and network monitoring suite. With version 3.0, NETIKUS.NET ltd adds significant value to its monitoring ecosystem.
The most significant improvement is the completely new web-based reporting which features a fresh new look, is platform independent (Windows, Linux, OSX) and offers a unique and completely new way to look at data collected from your network. Mobile clients are also better supported, searching (event) logs supports complex queries and dashboards are more flexible. The new jobs functionality helps automate reporting tasks, for example with the improved software/hardware inventory and warranty checks.
Enhanced cross-platform capabilities are also available on the monitoring end, and any SNMP-enabled device can now be monitored as part of EventSentry's heartbeat monitoring functionality. Combined with the already existing Syslog and SNMP trap monitoring capabilities, EventSentry can now fully monitor Linux, BSD and other SNMP-enabled devices.
"With this release we are entering a lot of new territory, and EventSentry users will have unified view of their networks – regardless of the Operating System," says Ingmar Koecher, founder of NETIKUS.NET. "Equally exciting is the fact that all customers with active maintenance agreements will be able download this major update completely for free."
The EventSentry management console also received a face-lift and now features a ribbon, which simplifies many common tasks in EventSentry – both for new and existing users. The management console also includes an improved built-in event viewer, which makes viewing the various Windows event logs much easier. A new authentication manager makes managing credentials in EventSentry more reliable and much easier to use.
The EventSentry agent received a number of new features as well as stability and performance improvements. Among the new functionality is the ability to send desktop alerts to Growl and easily integrate with various mobile push services. Existing users benefit from a new disk space monitoring feature which can predict when hard drives will be full.
To help detect ARP spoof attacks as well as detect and track new devices, EventSentry introduces the ARP daemon as a new component in the network services. Built on the popular (Win)Pcap library, the new ARP daemon monitors all network traffic to notify network administrators when new network devices are added, and when ARP spoofing behavior is suspected.
EventSentry & EventSentry Light can be downloaded from http://www.eventsentry.com/downloads.
About EventSentry
EventSentry™ is a full-spectrum real-time SIEM log, system and network monitoring solution created by SysAdmins for SysAdmins. EventSentry helps customers meet their compliance requirements as well as prevent business outages with its powerful server health, network and environment monitoring components. The extensive software and hardware inventory capabilities in EventSentry provide additional value to its users. EventSentry is backed by excellent support, and can be highly customized to integrate with virtually any environment.
About Netikus
Founded in 2002, NETIKUS.NET is a privately owned software company located in Chicago, IL developing both free and commercial software products for IT professionals. NETIKUS.NET ltd can be reached at 1-877-NETIKUS or on the web at http://www.netikus.net.