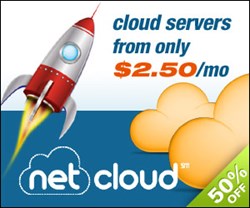 Unlike others, NetCloud's platform offers True Cloud Hosting with the resilient automatic hardware failover standard.
Austin, TX (PRWEB) December 16, 2013
NetCloud has launched their True Cloud Hosting Server Platform offering all the benefits and flexibility of cloud hosting, with the added bonus of Automatic Hardware Failover and Disk Redundancy. All NetCloud Servers are connected to an ultra-fast SSD-based High-Availability ZFS SAN offering an additional layer of failover for maximum reliability and performance.
Many cloud hosting providers claim to offer "cloud hosting," when in fact they simply offer Virtual Private Servers on standalone hardware nodes with local storage, offering no redundancy whatsoever. NetCloud's fully resilient infrastructure offers full redundancy in a single virtual machine without having to deploy multiple VPS compared with other so-called "cloud hosting" providers.
The company's customers can instantly deploy and rebuild Virtual Machines, choosing from many different flavors of Linux, including CentOS, Fedora, Debian, Ubuntu, FreeBSD, Gentoo, Slackware and OpenSuse. NetCloud users also enjoy True 24x7x365 Level 3 support for all their support requirements.
All True Cloud VPS server plans from NetCloud feature:

Automatic Hardware Failover
Enterprise SSD SAN Storage
Multiple Linux Distributions
24/7/365 Technical Support
Instant Setup
NetCloud customers can also add an additional IP Address to their Virtual Machine and industry standard WHM/cPanel is offered as well. Backup and Monitoring services are also available.
For a limited time, NetCloud is offering Cloud VPS Plans at a discounted prices. Users can use coupon code CLOUD50 and receive 50% off all plans for life. This offer is available on the company's website at http://www.netcloud.com.
About NetCloud
Based in Austin, TX, NetCloud, LLC is privately held medium-sized cloud hosting company, debt-free and profitable. NetCloud was founded with a simple goal, to provide reliable and affordable Cloud Hosting along with the best support for any type of user; developers, small business, hosting resellers and web designers. Learn more at http://www.netcloud.com.