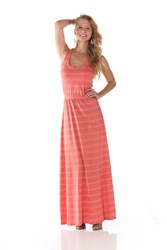 ...the days of maxi dresses looking like a muumuu are definitely over.
Los Angeles, CA (PRWEB) December 18, 2013
A2M USA™ is a new clothing brand in the youth market with some cool fashion ideas. With their Maxi Stripe Dresses, they give the traditional maxi dress a makeover with a cinched waist and broad stripes. In a market overflowing with maxi dresses, the Maxi Stripe Dress stands out as a beacon of style. With wide horizontal striping, and an elastic gathered waist, the days of maxi dresses looking like a muumuu are definitely over. These soft, casual and comfortable dresses flatter women's natural curves as opposed to hiding them. Creating a sexy silhouette, the Maxi Stripe Dress retains the loose comfortable fit women have come to expect from a maxi dress, but with a shape.
Available in colors ranging from Flamingo (light and dark orange/peach) to Tang (contrasting yellows) to Blue, the Maxi Stripe Dress by A2M USA is sleeveless and made of a lightweight, breathable and cool polyester. The monochrome striping is understated, yet eye catching.
The Maxi Stripe Dress is among the growing line of hip, youthful apparel "for the young & sexy," that's on display at A2M's website.
Their web banners and social media posts proclaim A2M USA has joined the ranks of U.S. clothing makers who are passionate and vocal about keeping jobs in the United States. Accordingly, all of their clothing is made right here, in one of their three manufacturing hubs: New York, Los Angeles and San Francisco.
A2M USA was founded by an African-born European entrepreneur who started an American-inspired casual fashion line in Europe which caused a sensation among European youth. His dream was to conquer America, and he relocated here in 2012. With the launch of A2MUSA.com his dream has come one step closer to reality.