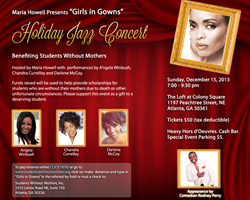 'Girls in Gowns' Holiday Jazz Concert and BenefitDate: December 15, 2013Time: 7:00 PM ET Location: The Loft @ Colony Square, 1197 Peachtree Street, NE, Atlanta, GA 30361
Atlanta, GA (PRWEB) December 11, 2013
Actress and singer, Maria Howell, will present a special holiday Jazz concert to benefit Students Without Mothers on Sunday, December 15th, 2013 – 7:00 PM to 9:30 PM ET. The performance will take place at The Loft at Colony Square, 1197 Peachtree Street, NE. Tickets are only $25 and are tax deductible. Featured with the evening of music and comedy, guests will enjoy Hors d'Oeuvres and a cash bar.
Special guest performances by acting/singing starlet NaDej Bailey, a Capella group Song of Atlanta Chorus, gospel recording artist, Darlene McCoy, actress/singer Chandra Currelley and R&B singer/songwriter A'ngela Winbush. Comedian, actor and writer Rodney Perry, will also make a special appearance.
Funds raised will be used to help provide scholarships for students who are without their mothers due to death or other unfortunate circumstances. Readers and guests are invited to support this event as a gift to a deserving student this Christmas season.
For more information or to reserve a seat online, please visit the charity's site at http://www.studentswithoutmothers.org or donors can make a tax deductible donation by sending a check to: Students Without Mothers, Inc., 3355 Lennox Road, NE - Suite 750, Atlanta, GA 30326.
Event Details:
"Girls in Gowns" Holiday Jazz Concert and Benefit
Date: December 15, 2013
Time: 7:00 PM ET
Location: The Loft @ Colony Square, 1197 Peachtree Street, NE, Atlanta, GA 30361
Tickets are $25 (tax deductible)
Heavy Hors d'Oeuvres - Cash Bar - Special Event parking is $5
Tickets may be purchased online at http://www.studentswithoutmothers.org.