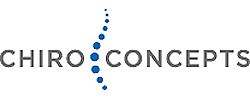 McKinney, TX (PRWEB) December 10, 2013
Don't let pain prevent the enjoyment of the holiday season. ChiroConcepts of McKinney would like to help patients overcome pain so that they can truly enjoy their upcoming Christmas celebrations. ChiroConcepts is offering patients and their families a chance to go through an examination which includes range of motion testing, muscle testing, strength testing, gait analysis, and x-rays (if needed) at no cost. Call or stop by the office in the McKinney Green Building in McKinney, Texas and we will get patients out of pain so that may enjoy the holidays with the people they love.
ChiroConcepts is located at 4500 W. Eldorado Parkway, Suite 1000 in McKinney, Texas, just west of Hardin Boulevard. Hours of operation are 7:30 a.m. to 1:30 p.m. and 3-6:30 p.m. Monday and Wednesday, 12:30-6:30 p.m. Tuesday and Thursday, and 7:30 a.m. to 1 p.m. Friday. For more information, or to make an appointment, call 214-504-1695.
About the company:
One of the most important areas of the clinic is the treatment area. ChiroConcepts utilizes what is called an "open concept" for treatment. This type of treatment allows patients to have more of a community-type relationship with other patients as well as get to know all of the doctors and staff. In certain instances there will be closed-room treatment options to offer more room during busy times, during specialized testing, and for soft tissue therapies.
ChiroConcepts takes pride in offering state-of-the-art technology that sets them apart from other health care facilities, not only in the community, but also in the state of Texas. For more information, please visit: http://www.chiroconceptsdfw.net.