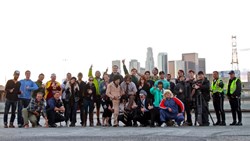 There is never a substitute for working with an established and professional business who operates with character. - Chris Carter, Vice President of REP Interactive
Los Angeles, CA (PRWEB) December 10, 2013
Award Winning Video Agency, REP Interactive announces their top tips for selecting and hiring a video production company. These tips are perfect for corporations and brands searching for vendors that can help them implement new ways to use video over the New Year. Video content is proven to help brands increase revenue and decrease expenses, however, not all video vendors are capable of delivering the strategies and content required for achieving company goals. Use these tips as a guide during the interview and proposal process.
First begin by exploring the video production company's technical expertise. As Hollywood and the entertainment industry have demonstrated, creating high quality video content is extremely difficult. If you want to create Hollywood quality video content factors like lighting, camera angles, and sound instantly make or break your entire production. A poorly designed video wastes time, energy, and money for businesses. An amazing piece of content, like the kind produced by RedBull or Coldwell Banker Real Estate can instantly make your brand. At REP Interactive, we advise all of our clients to thoroughly vet their production company in review and ensure that they provide a minimum of 5 references and 10 samples of their latest work. During the proposal process, be sure to address these specific points:
1. Professionalism – When working with outside vendors professionalism always matters… but when working with a Video Production Company its even more important. Often times your video production company works closely with executives, employees, and other key stakeholders in your corporation. The nature of producing video content often means in person interviews, creating executive messaging, and also directing "actors" on film, who are often employees within your business. The persona your video production company should embody is one that makes you and your staff feel very comfortable and relaxed, yet also portrays a responsible and reliable vendor. Our top 3 question for vetting professionalism are:
a. How would you prepare for interviewing our top executive staff and what are your methods for helping non-actors feel comfortable on camera?
b. Please describe the most difficult production experience you've had and how your team responded to that situation.
c. What bothers you most about your clients?
Based on the responses from the top 3 questions above, you will get a very good picture regarding the professionalism of the production company in question. We've found the last question in particular most revealing. While the first two questions tend to reveal experience levels and professionalism directly, it's a good rule of thumb that you don't want vendors who have bad things to say about their current clients. Our last question tends to act as a disqualifier.
2. Efficiency & Effectiveness – Remember, time is money and both are precious to your department. In order to achieve your corporations top business objectives it's very important that your video production company understands the general scope of your business as a whole; in addition to the specific goals they will be helping you achieve and the relevance of time. An effective video production company should have a track record of experience that demonstrate their ability to effectively execute projects in short time frames while maximizing the value of a dollar spent. Here are our top 3 questions for evaluating efficiency and effectiveness:
a. Can you please describe a time-sensitive case study that required your video production company to execute a high level project with a quick turnaround?
b. Has a client ever asked you to produce something that wasn't within the budget? How did you respond and what was produced as a result?
c. Has a client ever given you a much bigger budget than what was required for the project? What did you do?
These top 3 questions regarding efficiency and effectiveness should give you an idea of how fast or slow your production company can respond to assignments. It will also give you insight to their ability to innovate and/or improvise. Lastly, our disqualifier question is here to keep them honest. At times, corporations are unaware of the costs regarding video production, sometimes we budget $150,000 for something that should only cost $30,000 and sometimes it's the opposite. If you are working with a great video vendor, they should be honest and they will let you know when you've budgeted too much and when you've budgeted too little.
3. Safety – Hands down the number 1 most overlooked category when vetting video vendors is safety. Safety is also the most important category to vet for. Very few people are aware that video production is an extremely dangerous process. Crewmembers are constantly operating heavy equipment, working with high voltage electricity, executing stunts, and unfortunately tragic accidents and deaths do happen on set. Here are our top 3 questions that will help your corporation assess the operational safety skillset of your new potential video production company:
a. Have you ever had an injury or safety related incident on set and if so how was that responded to?
b. Does your team have any experience with safety, survival, or disaster training? Who on your team is the designated first responder in case of an emergency?
c. Do you have insurance and liability coverage? If so, can you please provide a copy of this Insurance Policy? (Coverage should be for a minimum of $2,000,000.00 for liability).
"At REP Interactive we all have safety training. Each employee is required annually to complete First Aid and CPR training. Our former military veterans emphasize disaster preparedness. At REP Interactive our head of production, a former Army Airborne Sergeant, conducts a safety walkthrough and a safety brief before and after each day of production. We've dealt with a variety of hazardous incidences from hostage situations in third world countries to scorpion stings in Arizona to working with a broken foot in the middle of the jungle. Production is an extremely fun, dynamic, and creative profession but it is not without risk. We do our best to assess and prepare for that risk so that we can keep everyone safe." Steve Gatena, Chief Executive Officer, REP Interactive.
"For a large corporation or Fortune 500 Company selecting the correct video agency can be a difficult process if they don't know where to look. It's mostly a 'mom and pop' kind of marketplace and now that digital cameras are everywhere there's a ton of creative kids masking themselves as big time content makers. The key is to follow the same principles you do with most other vendors, find someone who understands your business and is an expert at what they do. There is never a substitute for working with an established and professional business who operates with character" states Chris Carter, Vice President of Los Angeles-based video production agency, REP Interactive.
Fortune 500 Companies trust REP Interactive to create media solutions that increase revenue, decrease expenses, and achieve communication goals. At REP Interactive we empower businesses and inspire people through video & broadcast media.
REP Interactive (http://www.repinteractive.com) is an award winning video and broadcast media agency. REP empowers businesses with video and broadcast media solutions that increase revenue, decrease expenses and achieve communication goals. Since 2011, clients like Coldwell Banker, Marriott Hotels, and GE Healthcare have relied on REP Interactive for their ability to create innovative solutions to corporate communication problems.
Please contact Chris Carter, REP Interactive for inquiries: Chris(at)repinteractive(dot)com or call 888-789-1299.