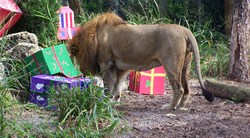 Wild animals will soon enjoy holiday-related delicacies with a wild twist.
Naples, FL (PRWEB) December 12, 2013
For 12 days in December – from the 13th all the way to the Christmas Eve 2013 – delight in watching wild animals receive their special gifts at Naples Zoo at Caribbean Gardens. Malayan tigers and honey badgers will claw into beautifully decorated presents filled with meat surprises; alligators will swallow a festive turkey leg dinner; and the giraffe herd can't wait to munch into their festive treats; and many other animals will soon enjoy holiday-related delicacies with a wild twist. See the full schedule at http://www.napleszoo.org/holiday.
Adding to the community spirit, many Southwest Floridians are joining with Zoo staff and volunteers to contribute to the holiday fun. Recreating a veritable subtropical Santa's workshop, residents at eleven Brookdale Senior Living communities from Naples to Sarasota are once again crafting animal-friendly treats that will add to the animal's holiday cheer. Some of the senior toymakers themselves will also make special visits to Naples Zoo to see their presents get wildly unwrapped. This is the ninth year that residents at area Brookdale Senior Living communities have participated in the Zoo's holiday event. (http://www.brookdaleliving.com)
Events like this are part of the daily animal enrichment program. Proper animal husbandry by the Zoo's professional animal care staff includes not only thorough cleaning, nutritional diets, veterinary evaluations, and daily recording of activities and health, but also behavioral enrichment. Enrichment begins with exhibit design, number and variety of animals living together, and also includes toys and natural materials for the animal to play with (or destroy!), supplemental foraging activities, and even the use of scents and visuals to increase curiosity about objects. By rotating activities, animals consistently engage in something fun and thought provoking – and the holidays provide a fun twist.
About The Zoo
Naples Zoo at Caribbean Gardens is a 501(c)(3) nonprofit organization cooperating in conservation programs both in and outside the wild for endangered species including a full day of fun presentations and wild cruise through islands of monkeys, lemurs, and apes. Your ticket includes admission to both the nationally accredited zoo and historic accredited garden along with shows, exhibits, and the boat ride. ($19.95 adults age 13+/ $12.95 children 3 to 12, under 3 free. Children under the age of 16 must be accompanied by an adult at least 18 years of age). Zoo memberships and discount tickets are also available online at http://www.napleszoo.org. Naples Zoo welcomes guests from 9:00 to 5:00 with the last ticket sold at 4:00 and is located at 1590 Goodlette-Frank Road across from the Coastland Center mall in the heart of Naples. (Naples Zoo is closed on Christmas Day.) To learn more, click http://www.napleszoo.org, like them on Facebook, or call (239) 262-5409.