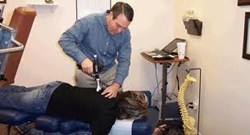 This type of financing can be started with an easy online form and go to cash in hand funding in just a few days.
Hallertown, PA (PRWEB) December 11, 2013
Gone are the days when it was literally impossible for small chiropractic office owners to get access to financing and working capital. Thanks to the new small business funding service, LendDeck.com the playing field has now been leveled to make it possible to access business-related financing, even if the business owners have personal credit problems or do not process credit cards for payment.
With small business loans for Chiropractors getting tougher to secure with traditional banks, alternative financing sources are growing in popularity with these medical professionals.
If a chiropractic office has established cash flow, according to Lisa Wolfrum, President of SBL Capital Group, LendDeck.com has now put a system in place to help these offices qualify for financing from $2,000 up to $250,000 or more in special circumstances.
"This type of financing can be started with an easy online form and go to cash in hand funding in just a few days rather than the weeks or months it can take with most conventional bank loans," says Wolfrum.
Launched earlier this year (May 2013), the small business funding and financing service was designed to help chiropractic offices get the cash they need without the hassle of a traditional bank loan. "Cash flow for chiropractic offices is critical to keeping their business afloat and we're glad to be able to help these important professionals as an ongoing asset to their business needs," added Wolfrum.
"The goal is the help them complete a no-obligation request form on the website in less than two minutes," says Wolfrum, who now makes it super easy for these Chiropractors to find out what kind of funding their practice can qualify for without ever visiting a bank.
"The rationale behind LendDeck.com," explains Wolfrum, "is based on the fact that many small businesses, and particularly those in the chiropractic and medical industries, were finding it difficult to access normal loans or financing because traditional banks weren't accommodating their needs due to several factors, including some lower personal credit scores."
"With low credit scores of a handful of bank loan applicants playing a major factor in these traditional banks not granting them loans, we have decided to step in to fill the breach with LendDeck.com, which has a much faster and easier process with far less paperwork required and looks at the business operations instead of the business owner to make financing decisions," adds Wolfrum.
Even though they do not offer funding for true start-ups, Wolfrum says LendDeck.com will consider most businesses with at least four months of operations and cash flow.
"We are really excited about the fact that LendDeck.com and its funding partners have so far helped small business secure several million dollars in financing in 2013 alone. Getting small businesses the money they need to continue operations and expansion is a great help in strengthening the American economy and we are excited to have the opportunity to fill a gap in the market. In so doing, we are helping the country's economy to grow. Besides, it is a great feeling to be in a business where everybody wins," concluded Wolfrum.
For further information, please contact: Lisa Wolfrum, President of SBL Capital Group, LLC - 800-213-6456, or visit their website at http://www.LendDeck.com.