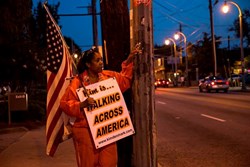 Homelessness, joblessness, and poverty in America have plagued our nation for too long.
Birmingham, Alabama (PRWEB) December 10, 2013
Tune in Wednesday at 10 a.m. CT for an interview with a special guest. Kim Denmark is Walking Across America to bring attention to homelessness, joblessness and poverty. These issues have plagued our nation for far too long because of greed, selfishness and a lack of basic human compassion. Kim believes that these issues must be met head on with the help of small businesses, church communities, celebrities and the people of this great nation. People who are willing to not only start the conversation but engage in change to change the situation.