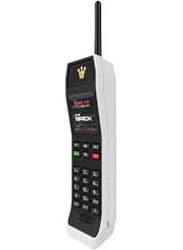 'The Brick is big, it's bulky and it's really quite fun,' says Dino Lalvani, Chairman of Binatone.
Indianapolis, Indiana (PRWEB) December 11, 2013
Binatone (http://www.binatoneglobal.com), a global leader in consumer electronics products founded 55 years ago in London. UK, is proud to announce the introduction of "The Brick" a nostalgic smart phone handset that pays homage to the cell phone that started it all back in 1983.
"The Brick is big, it's bulky and it's really quite fun," says Dino Lalvani, Chairman of Binatone. "People have a soft place in their heart for this cell phone style because it set them free from landlines and cords forever. They could take their phone anywhere."
While the Brick's image is loaded with nostalgia, its many features are decidedly more modern. For instance, it connects wirelessly to your smart phone via BlueTooth™ and it offers up to one month of standby battery life with up to 14 hours talk time.
The Brick also has large, powerful speakers and a micro SD slot that allows you to load and play your favorite music. The speaker allows the Brick to be used as a hands free cell phone device. Other features include an FM radio and an LED flashlight. Most notably it features the greatest mobile phone game of all times, Snake.
In the 1980ies a Brick cost thousands of dollars to own and thousands were dreaming of such a phone. Today's new Brick costs only $69.99 and makes the perfect holiday gift for those wanting to revisit those exciting times when the cell phone was living large.
To order The Brick online, visit http://www.meetthebrick.com or visit us on Facebook: https://www.facebook.com/MeetTheBrick.
About Binatone
Binatone manufactures a diverse range of consumer communication products such as telephones, mobile phones, video and audio monitors for babies, pets and homes, walkie-talkies and tablets. We ride the crest of the wave when it comes to consumer technology, and our products feature the latest technologies such as Wifi Direct, Bluetooth 4.0, Android 4.3, CAT-iq and a variety of others. For more information visit http://www.binatoneglobal.com.