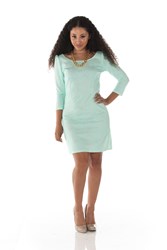 This versatile dress is your solution to every what-to-wear quandary.
Los Angeles, CA (PRWEB) December 20, 2013
The remarkable Lacey Jane Dress from A2M USA™ has a boat neck, and a lacey floral sheath overlaying an ivory lining. This versatile dress is your solution to every what-to-wear quandary. Available in four feminine colors, including mint green and light pink for weddings, daytime dates and engagements. The dress also comes in black or ivory for more formal events, or just a night out with the girls. The Lacey Jane Dress is available in sizes XS-L.
With a hemline that hits above the knee, and three-quarters length sleeves, this dress needs very little in the way of accessorizing. Pair it with strappy sandals, wedges or pumps for a classic look, or go a little edgy in black with boots and a leather jacket. Any way you wear the Lacey Jane dress is sure to get you noticed.
The Lacey Jane Dress is among the growing line of hip, youthful apparel "for the young & sexy," that's on display at A2M's website.
Their web banners and social media posts proclaim A2M USA has joined the ranks of U.S. clothing makers who are passionate and vocal about keeping jobs in the United States. Accordingly, all of their clothing is made right here, in one of their three manufacturing hubs: New York, Los Angeles and San Francisco.
A2M USA was founded by an African-born European entrepreneur who started an American-inspired casual fashion line in Europe which caused a sensation among European youth. His dream was to conquer America, and he relocated here in 2012. With the launch of A2MUSA.com his dream has come one step closer to reality.