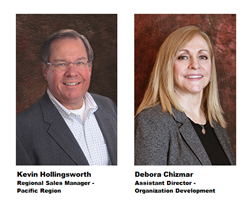 "These two individuals will allow us to better serve our business units, customers and employees." Ron Ringness, EVP/Partner
Vienna, OH (PRWEB) December 11, 2013
Millwood Inc. (http://www.millwoodinc.com), a worldwide industry leader and innovator of unit load and packaging systems, materials and services, recently added two new hires to regional sales and business development positions. "As our global launch and product diversification continues to expand, we will always require new talent to support our endeavors," said Ron Ringness, EVP/Partner. "These two individuals will allow us to better serve our business units, customers and employees."
Kevin Hollingsworth is Millwood's new regional sales manager for the Pacific Region. The region encompasses California, Washington, Oregon, Nevada, Arizona, Utah, Colorado and New Mexico and includes a number of key accounts. Hollingsworth has a bachelor's degree in business administration from University of La Verne and has 27 years' experience in sales and management in a variety of distribution, manufacturing and service environments. Most recently he was the sales manager for Hunter Woodworks in Carson, California. He and his wife live in Glendora, California, and have two daughters.
"Kevin is integral to Millwood's efforts to expand our presence in the western market," said Doug Gaier, Director – Regional Sales. He added that Hollingsworth will also represent Millwood's complete line of unit load products, including pallets, engineered systems and engineered consumables.
Debora Chizmar is Millwood's Assistant Director – Organization Development. Her responsibilities will include developing, organizing and reviewing training programs. Chizmar has a bachelor's degree in education from Youngstown State University and has 14 years' experience in employee training and auditing. She lives in Canfield, Ohio, and has two daughters.
"Millwood was looking for someone with the skills and experiences to achieve our training and educational goals," said Rick Lombardo, Director – Organizational Development. He added that Chizmar will also focus on higher education initiatives. "Debora brings the skills and life experiences needed to develop and drive a learning culture throughout our company," Lombardo said.