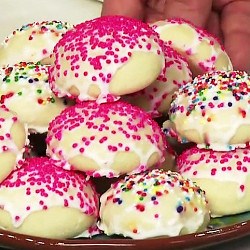 Cambridge, MA (PRWEB) December 11, 2013
Gather your elves around the yule log for a lesson in kid-friendly dessert-making from Cook123.com, which released a sleigh load of holiday how-to video recipes. These Santa-approved recipes are guaranteed to earn you stockings full of cheer.
Each of the party treat ideas takes about 30 minutes to create and often features only a jolly handful of ingredients.
Watch videos on how to make Christmas tree cupcakes with just a few simple piping bag techniques under the guidance of an expert baker, or snowflake cupcakes made with edible "tinsel" and light blue icy frosting. Other cupcake ideas include adorable Santa faces, snowmen, and wreaths.
Not to be left out in the cold, our recipe for fragrant Italian anise cookies topped with colorful candy sprinkles will get everyone into the festive spirit. Snowball cookies and midnight crackle cookies will make sure that there won't be a single humbug left in the house.
Cook123 has over 50 Christmas recipe videos with more on the way. Look for more creative recipe ideas from Cook123.com as we continue to grow our library of seasonal and year-round video content and recipes with fresh takes on traditional ideas.
About Cook123.com:
Cook123 is owned and operated by Media Program Network, Inc., a privately held content company created by media and Internet professionals, including veterans of the newspaper business and founders of The Food Network & Wine TV. With roots in Cambridge and MIT, Cook123 uses the best of high-end tech talent and analytics to create a personalized user experience. They have over 100,000 recipes and 1,000 broadcast-quality videos that reflect above all healthy and delicious food using today's culinary criteria such as local ingredients and sustainable farming techniques.