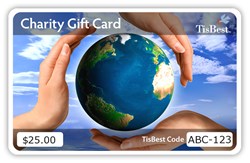 It is always such a wonderful experience to partner with a new organization.
Seattle, WA (PRWEB) December 11, 2013
Leading charity gift card provider TisBest Philanthropy announced today the addition of 10 new charity partners to their online charity gift card program.
These 10 organizations are included on a list of more than 300 national and local nonprofit organizations that have partnered with TisBest Philanthropy. Recipients of TisBest Charity Gift Cards can use the money on their card to donate to any of the nonprofits on TisBest's website.
"It is always such a wonderful experience to partner with a new organization," said TisBest Executive Director Jon Siegel. "The ten organizations that have joined us represent a wide range of causes that will enrich our existing list and offer charity gift card spenders the opportunity to connect with multiple causes they feel passionate about."
TisBest's 10 new charity partners are:

Woods Hole Oceanographic Institution (WHOI)
Guide Dogs for the Blind
Water for People
The American Foundation for AIDS Research (AMFAR)
Stand for the Silent
Worldreader
spcaLA
Consejo Counseling
Pawsitive Alliance
Organization for Prostitution Survivors (OPS)
TisBest Charity Gift Cards are donation gifts that allow the gift recipient to donate to a cause they believe in. These gift cards work like conventional gift cards, but instead of using the card at a store to buy "stuff," the recipient directs the money on the card to a charitable organization through the TisBest website.
The full list of TisBest charity partners can be found under the Charities tab at http://www.TisBest.org.
About TisBest Philanthropy
TisBest Philanthropy is a 501(c)(3) nonprofit organization dedicated to fostering the growth of non-material gift-giving. TisBest created charity gift cards in 2007. Charity gift cards work like conventional gift cards, but with one important exception: the recipient of a charity gift card "spends" it by choosing a charity to receive the funds.
With a TisBest Charity Gift Card, you make the donation and your recipient decides how to spend the donation, choosing from TisBest's 300+ charity partners.
TisBest cards are customizable at no additional cost, and have become increasingly popular as consumer and business gifts. Learn more at http://www.tisbest.org.