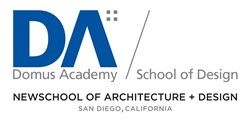 San Diego, Calif. (PRWEB) December 10, 2013
A panel of international designers will share their visions on design during an event on Dec. 12 in San Diego that marks the launch of a new product design program being offered through the Domus Academy School of Design at NSAD for the 2014-2015 school year. The presenters will demonstrate how powerful product design can be in creating unique experiences and interactions in our daily lives. The panelists bring product design backgrounds from their current or previous work with global firms such as San Francisco-based frog, Nike, and Motorola as well as from their own prestigious firms. The Innovation by Design event, which starts at 6 p.m. and is being held at NewSchool of Architecture and Design in San Diego, is free and open to the public. For more information and to reserve your seat: http://www.eventbrite.com/e/innovation-by-design-tickets-9541038503
For a list of speakers with photos: http://www.newschoolarch.edu/news-events/1566.htm
Innovation by Design panelists include:
RICARDO CAMARGO, Creative Director/Owner of Vapor Studio in Encinitas, Calif., founded the creative agency in 2003. Ricardo created Vapor Studio to use lifestyle-driven thinking to deliver brand-fueled product design. He draws on a decade of experience launching and managing brands embraced by marketers' most sought-after demographic groups— youth lifestyle consumers.
JOAN GREGOR, Founder and CEO of INTERSECTION-INC. in San Diego, is a strategist and visionary who deciphers the organic creative and product development processes into tangible and feasible business, design and growth strategies. With a focus on leveraging the value of design, she has consulted for GE Oil & Gas, Bose, Magna, BMW/Designworks, Nokia, GE Healthcare, Better By Design & CVS, transforming cultures, empowering design leaders and creating exceptional user experiences.
JENNIFER LUCE is founder and Principal of LUCE et Studio in San Diego, a practice that has gained national attention for projects that emphasize collaboration and interdisciplinary craft. The studio has received 21 local, state and national AIA awards.Among her areas of design specialties is the exploration of spaces that lie between traditional architecture, site specific art, narrative landscapes and the sculptural form. Luce received her Bachelor of Architecture with Distinction from Carleton University, Canada in 1984 and a Masters of Design Studies from Harvard University's GSD in 1994.
RON MIRIELLO, Director of Miriello brand expression in San Diego, is a national award-winning brand strategy and corporate communications professional. He has 34 years of experience defining, creating and implementing brand-focused communications for multi-million dollar companies across diverse industries. He is a respected leader of strategic and creative teams, and an expert in clarification of brand positioning, brand reinforcement and creative implementation.
DARIO MITICOCCHIO specializes in user experience, interaction design and strategy at Hewlett-Packard in San Diego. He worked as designer at Stefano Giovannoni and Makio Hasuike studios in Milan. Trained as an architect, for the past 20 years his career path and curious nature have resulted in his involvement in design projects that go beyond architecture to include apparel, interiors, experiences, services, products and graphics, with incursions into marketing and ethnographies.
CHUCK PELLY, Chief Creative Officer at INTERSECTION-INC. in San Diego, is a 45-year veteran of the design industry and is a world-renowned product, seating, auto and transportation designer. He is the founder and former President of Designworks/USA, which grew to be one of the world's Top 10 design consultancies and became a wholly owned subsidiary of BMW Group. Designworks/USA was instrumental in the BMW X5, Z4 and award-winning BMW 3 Series.
GAD SHAANAN, CEO of GadLight Inc. in La Jolla, Calif., is an entrepreneurial visionary with a 30-year record of creating and working with winning corporations and products. He brings a proven history of building internationally recognized, mass-market brands with hundreds of diverse corporate cultures, from medical to mass transport industries, and kitchen to cellular products.
MARCO SUSANI, co-founder of Koz Susani Design, is a design visionary who extended the culture of Italian Design to new fields like Interaction Design and Strategic Design. He started his career with Italian design guru Ettore Sottsass and worked in Milan at Olivetti, Sottsass Associati, and Domus Academy. He moved to the United States to create the Motorola Advanced Concept Group, and became Motorola's Global Vice President of Digital Design. He is based in Chicago, Ill.
ROBERTO TAGLIABUE is the founder of Visere, a digital innovation firm that was acquired by Jawbone. He has been leading the design and product experience team behind the wearable band Jawbone UP and the Jambox family of speakers. Roberto has a long history in digital. He led innovation and design at Razorfish, Motorola and Nike where he received multiple awards for the design of NikePlus and the digital service NikePlus.com. Throughout his career he has been focusing on crafting end-to-end user centric experiences, combining hardware with useful software and powerful services.
DANIEL MOTA VEIGA, Design Manager at INTERSECTION-INC. in San Diego, is an Industrial Designer and Entrepreneur from Portugal with a degree in Industrial Design from Universidade Lusiada de Lisboa. He has a master's degree in Interaction Design from Istituto Europeo di Design in Torino and has continued his studies into Branding at Northwestern University's Kellogg School of Management in the United States. Starting in 1994, he has held positions with many reputable companies including Fiat Auto, Pininfarina, Sprint/Nextel and Motorola. He's been successful in influencing the culture and practices of design within interdisciplinary groups and as a passionate ambassador for brand and design.
ROBERTO VERONESE is Creative Director at frog, the global strategy and design firm in San Francisco. He has more than 10 years of experience in shaping strategies and designs for innovative products and services in a broad range of industries and global markets (United States, Europe, Russia, Middle East and Australia). He has a master's degree in philosophy from Università degli Studi di Padova.
About NewSchool of Architecture and Design
Located in downtown San Diego, NewSchool of Architecture and Design (NSAD) prepares students for career success in design fields through an emphasis on interdisciplinary and global design skills, industry collaborations and real-world projects. The school's programs include architecture, construction management, product design and interior design. The school also offers programs in digital media arts, game art, game programming and animation. For the past two years, DesignIntelligence has ranked NSAD among the top 10 undergraduate architecture schools in the western United States in its publication "America's Best Architecture & Design Schools." The school's design environment provides inspiration for the school's students and faculty, recognized for their work regionally and internationally, and NSAD students are prepared to work in a global and diverse work environment through the school's collaborations with award-winning schools around the world such as Domus Academy in Milan, Italy and Media Design School in Auckland, New Zealand.
NSAD is accredited by the Accrediting Council for Independent Colleges and Schools (ACICS), a national accrediting agency recognized by the U.S. Department of Education and the Council for Higher Education Accreditation, and NSAD's Bachelor of Architecture, Master of Architecture and Executive Master of Architecture programs are accredited by the National Architectural Accrediting Board (NAAB). http://www.NewSchoolArch.edu.
About the Domus Academy School of Design at NSAD
The San Diego-based Domus Academy School of Design at NSAD is inspired by the quality and innovation of Italian design education leader Domus Academy in Milan, Italy - named one of the "World's Best Design Schools" by Businessweek. As a result of this collaborative relationship, NewSchool of Architecture and Design (NSAD) now offers a Bachelor of Arts in Interior Design and a Bachelor of Arts in Product Design through the Domus Academy School of Design at NSAD. The programs incorporate global design into the curriculum through classes in San Diego and by offering students the chance to study abroad at Domus Academy in Milan, Italy - at no additional tuition cost. The Domus Academy School of Design at NSAD is supported and guided by an advisory board of leading designers from around the world. The Domus Academy School of Design at NSAD complements NSAD's interdisciplinary offerings of design-related programs that include architecture, construction management, digital media arts, animation, game art and game programming. Both NSAD and Domus Academy are part of the Laureate International Universities network. Learn more: http://domusacademyschoolofdesign.com/