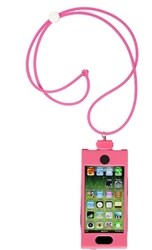 Dallas, TX (PRWEB) December 11, 2013
To score a bargain, last-minute shoppers typically have to scramble, especially when it comes to getting their hands on the season's hottest electronics and add-ons. iHangy is cutting eleventh-hour holiday gift givers a break with 39% off its entire inventory of iPhone accessories. Visitors to the iHangy site (http://www.ihangy.com) can use the coupon code 39OFF to take advantage of the promotion on their entire order.
The 39% off discount is applicable to everything currently in stock at iHangy.com. That includes all of the company's cases, necklaces, music necklaces and keychains for the iPhone 5 and iPhone 4/4s. Among the most current iHangy offerings are the Slip in 5 Case for iPhone 5, which can be bought solo or in combination with the necklace, music necklace or keychain enhancements that made iHangy a household name among iPhone 4 and 4s users. All of these products are designed to keep the iPhone safe, secure and close at hand at all times and are presently in stock for holiday arrival.
For additional information on the iHangy Slip in 5 Case for iPhone 5 and all its variations, visit the company on the Web at http://www.ihangy.com. To receive 39% off any iHangy order, add the coupon code 39OFF during checkout.
###
CONTACT INFORMATION:
Marketing
13650, TI Blvd., Suite #309
Dallas, TX 75243
http://www.ihangy.com