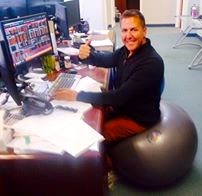 I think employers can demonstrate some hard metrics with sit-stand workstations like weight loss and the physiological benefits of standing, in addition to anecdotal feedback that we often hear like 'I feel better and have more energy.
New York, NY (PRWEB) December 12, 2013
A year-long NIOSH study evaluating sit-stand workstations brings wellness to the proverbial seat of our sedentary lives; namely, our workstations, where most of us spend long hours each day sitting in front of a computer.
The findings from NIOSH, the National Institute for Occupational Safety and Health, supplement recent studies highlighting health problems caused or exacerbated by prolonged sitting and go beyond the bailiwick of most corporate wellness programs, which tend to focus on healthy lifestyles with support for smoking cessation and stress reduction.
Lockton Company's Chief Medical Officer Eric P. Justin, MD, MPH, MBA extolls the virtues of sit-stand and treadmill workstations and recommends incorporating elements of exercise and movement into the workplace in addition to daily workouts at home of 30 minutes or more.
"Sitting all day behind a desk can put you at risk of major health problems, even if you work out for the recommended 30 minutes each day. A sedentary lifestyle contributes to obesity, high blood pressure, heart disease, diabetes, depression, back pain and other musculo-skeletal problems. What's more, we're now hearing reports that sitting for more than two to four hours a day seems to be a significant health risk factor, possibly negating many of the benefits of daily exercise sessions," says Justin, referring to studies documented on the NIOSH Science blog.
Click For More: Read This Post and/or receive free blog updates from RobRuotolo.com, a trusted resource for HR decision-makers. Enter your email in the opt-in subscribe box.
Or
Click Here to Download Best Practice Case Study in Innovative Workplace Wellness from Lockon Companies.