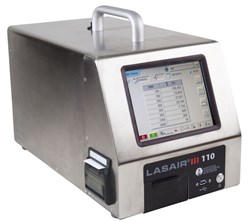 Boulder, CO (PRWEB) December 12, 2013
The inventors of the first laser-based particle counter have set the bar high again for microcontamination monitoring in the cleanest, most challenging monitoring environments. Last week at Semicon Japan, Particle Measuring Systems unveiled the Lasair III 110, the only 0.1 µm particle counter with field-selectable size channels. Customer feedback at the event indicated this feature is of substantial value.
For years, microcontamination engineers have struggled to identify and characterize particle excursions that cause costly yield loss, using particle counters with limited channel options. Particle Measuring Systems has delivered a solution to this challenge with the Lasair III 110. Designed with 8 user-adjustable channels offering 42 size choices, the instrument allows engineers to adapt the instrument to their needs and better troubleshoot particle events. The Lasair III 110 also improves the user experience with extended battery-life and a large easy-to-use infrared touch screen. Configured with the optional 4 onboard batteries, the Lasair III 110 can operate for over 7 hours to meet all mobile microcontamination monitoring needs. The user interface is intuitive and 12 on-board languages make the instrument easy-to-use around the world. This instrument also extends use of patented Particle Measuring Systems Smart Flow technology to eliminate undercounting errors in manifold applications and facilitate worldwide data comparison. With 1 CFM flow rate and true 0.1 µm sensitivity, and a sleek stainless steel cabinet, the Lasair III 110 is suitable for monitoring ISO Class 1-9 cleanrooms (with optional diluter).
Particle Measuring Systems is the global leader in environmental monitoring technology, with over 40 years of experience providing solutions for particle and microbial monitoring for companies manufacturing in clean environments. As the inventors of laser-based particle counters, Particle Measuring Systems sets the standard for particle monitors in pharmaceutical, nanomaterial, aerospace, integrated circuit and electronics manufacturing.
Contact:
Rebecca Thompson
Product Manager, Aerosol and Gas Products
(303) 443-7100, x253
http://www.pmeasuring.com