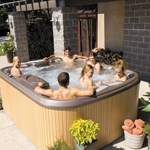 Let a hot tub or sauna help you-- wherever it hurts! Save $300 with your Harvard Pilgrim Membership card at New England Spas.
Eastern Ma., South shore, Metro west, Norwell, Cape cod, Natick, Wellesly, Newton, Auburn. (PRWEB) December 12, 2013
As vetted by both the medical and legal teams at a major H.M.O. you may see the following health and wellness results:
RELIEVE STRESS: Your entire body is affected by stress, both mentally and physically. Muscle tension, sleeplessness, fatigue, soreness, headaches, and anxiety are just a few of the effects. A spa is the perfect antidote to a hectic and stressful lifestyle.
EASE ARTHRITIS PAIN: According to The Arthritis Foundation, a hot tub helps to relieve arthritis pain and stiffness as well as increase mobility.
HEAL: A soak in a hot tub accelerates the body's natural healing process by dilating blood vessels thus increasing the flow of blood to damaged muscles and tissues. It also stimulates the release of endorphins, the body's natural pain killers to ease pain, and may also lower blood pressure.
SLEEP BETTER: Sleep researchers have discovered that immersion in hot water before bedtime can lead to a deeper, more restful sleep. This is due, in part, to a temperature shift since the body's core internal thermostat drops after leaving the water, signaling to the body that it's time to sleep.