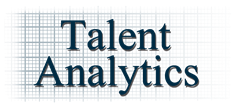 2014 is the year predictive analytics professionals need to seriously focus on optimizing this investment. 2014 is the year of HR and talent analytics!"
Cambridge, MA (PRWEB) December 11, 2013
2014 marks the second year Talent Analytics, Corp. will present their ground-breaking work at PAW in multiple conferences across North America. Talent Analytics brings a rigorous, predictive analytics approach to model, predict and optimize employee performance in leading organizations worldwide.
Pasha Roberts, Talent Analytics' Chief Scientist, says, "We are experiencing a palpable movement to use cutting edge predictive methods with data about employees. Companies are waking up to the novel idea that people are connected with performance, and that data science can be applied to problems like performance optimization. Talent Analytics continues to lead the charge in this battle. I look forward to speaking at PAW next year about employee attrition - a multifaceted, complicated, and expensive issue in which we have proven results."
Deepti Singh, Director of Talent & Learning, American Savings Bank, notes that "global businesses spend more than a trillion dollars on payroll alone. 2014 is the year predictive analytics professionals need to seriously focus on optimizing this investment. 2014 is the year of HR and talent analytics!"
"Many businesses have been led to believe they cannot take advantage of predictive analytics before implementing an expensive workforce planning or talent management solution. This is simply not the case. Businesses often have valuable employee data existing in a variety of sources. This data combines beautifully with our unique talent dataset to lend critical insight. We're excited to show our progress and share outcomes at Predictive Analytics World again this year", says Greta Roberts, Talent Analytics CEO.
Predictive Analytics World uniquely offers a focus on real-world examples of predictive analytics in action. Attendees will learn how Fortune 500 companies are using predictive analytics to increase revenue, reduce costs, and boost business performance and have the opportunity to network with their peers.
To learn more about Predictive Analytics World, visit http://www.predictiveanalyticsworld.com.
About Talent Analytics, Corp.
Talent Analytics, Corp., is a privately held corporation headquartered in Cambridge, Massachusetts. Its talent analytics platform Advisor™, uses a quantitative approach for measuring, modeling, predicting and optimizing employee performance in areas such as in Sales, Call Centers, and Analytics Professionals. For more information visit http://www.talentanalytics.com/ or contact Talent Analytics Public Relations at 617.864.7474 or email info(at)talentanalytics(dot)com.