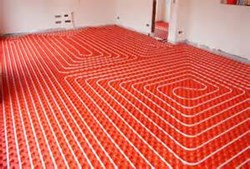 Ramsey, MN (PRWEB) December 12, 2013
E.L.K. Mechanical HVAC recently advised homeowners that when seeking furnace service Edina residents should consider upgrading their home heating system. The Ramsey, MN, company suggests they think outside the box, or furnace, this winter and consider the benefits of radiant floor heating.
When it comes to heating a home, there are several types of systems a homeowner can choose from. Most homes use forced air systems where air is heated by a boxy gas or electric furnace, a heat pump, or a hydronic coil and moved throughout the house via a system of ducts and vents.
In a hydronic radiant floor heating system, warm water flows through tubes installed underneath the floors. That warmth then radiates up from the floors and rises into the room. Because there are no ducts or vents, the benefits of using radiant floor heating include:

Evenly concentrated heat near the floor where people are located
Cold drafts are eliminated, as well as noisy fans, furnaces and ductwork
Ideal for allergy sufferers because it doesn't circulate dirt, dust or other airborne pollutants throughout the home
Concealed under the floor for a more aesthetically pleasing environment - eliminating the concern of blocking vents with furniture
Easily integrates with alternative energy sources, including geothermal, solar, waste and biomass
Can help a home earn LEED® points for reduced energy consumption
Potentially saves up to 40% in energy costs
Homeowners are encouraged to contact E.L.K. Mechanical for more information on radiant floor heating and other heating and cooling solutions at 763-691-9911 or visit http://www.ramseycarrierdealer.com.
About E.L.K. Mechanical HVAC
Since 1990 E.L.K. Mechanical HVAC has provided efficient and affordable HVAC service to residents and businesses of Ramsey, MN and surrounding areas. Using NATE certified technicians, E.L.K. is part of the Stay Comfy Minnesota network and is a Carrier Factory Authorized Dealer.