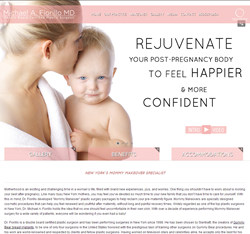 Every woman deserves to look and feel her best.
(PRWEB) December 12, 2013
Dr. Michael A. Fiorillo knows how important it is for women to look and feel their best. Pregnancy and childbirth can take its toll on a woman's body and leave her feeling less than her best, though.
A mommy makeover can be the perfect solution to rejuvenate a woman's body to its pre-pregnancy state. A mommy makeover often includes a combination of abdominoplasty (tummy tuck), liposuction, and breast procedures including a breast augmentation, breast lift, and/or breast reduction. Dr. Fiorillo also offers the latest generation of breast implants, Sientra's Gummy Bears, as a great option for moms who want the safest and most natural looking implant available.
MD Marketing Experts recently redesigned My Mommy Makeover as part of its own digital makeover. It is now easier than ever to explore available procedures, listen to first hand testimonials, and view galleries of other women's results.
The galleries are a special improvement to now include a variety of different combinations of mommy makeover options, such as a breast augmentation and tummy tuck only or a makeover that includes a breast augmentation, breast lift, tummy tuck, and liposuction.
As part of the digital facelift, MD Marketing Experts also created a series of informational videos. In these videos, Dr. Fiorillo explains how mommy makeovers revitalize women after pregnancy and childbirth so that they are comfortable in their own skin once again.
Dr. Fiorillo is double board certified in plastic and reconstructive surgery and is regularly consulted by the media for his expert opinion. Appearing on shows such as The Doctors, Good Morning America, Fox News, and Real Housewives of New Jersey, he is well-known as the celebrity plastic surgeon. You can now view clips of his TV and magazine appearances in a central location in his Media Collection featured on all of his websites.
To celebrate his website relaunch, Dr. Fiorillo is offering free consultations until December 31st, 2013. Patients are encouraged to ask as all their questions and to bring pictures of their pre-pregnancy bodies to better aid desires and realistic expectations. To learn more about mommy makeovers or schedule a free consultation, contact his Advanced Plastic Surgery Center in Pearl River, New York.
Dr. Michael A. Fiorillo
150 South Pearl Street
Pearl River, NY 10965
866-537-0954
http://www.drfiorillo.com
http://www.mymommymakeover.com