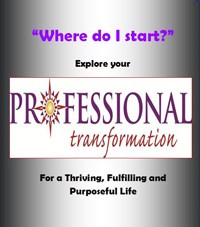 "It's crucial to define what the 'all' in having-it-all actually means for you."~ Dolly Garlo
Key West, FL (PRWEB) December 12, 2013
The fourth video in Dolly Garlo's series is entitled "Is Your Professional Work Interfering with Your Life?" It explores the very real challenge of most professionals who have a duty to put their work first, often making many personal sacrifices on a daily basis. The video illustrates one of the four significant areas of 'professional evolution' that she covers online at http://www.allthrive.com.
It's a very common issue, especially for those who strive to be the best and are conscientious about the service they provide. And it can lead to challenges in personal and family life, as well as burn-out in career.
In the video Garlo explains: "The main thing to remember when you feel like you're in a dark box, as one of my clients described it – and this is really important – is to ENJOY YOURSELF! Only in finding the joy, can you start to cut some windows in that box and let some light in."
The ability to strike the ideal balance between work and your life may well be a pipe dream. You can "have it all" in your life - but maybe not at the same time. It is crucial however, to know what that "all" means for you. That is paramount to creating harmony among the people and interests most important to you in order to achieve mastery in your professional life.
The video provides a variety of tips and short pieces of advice so that the viewer can apply them to their own life.
"Let me tell you, I've lived both sides," says Garlo. The stressful, overworked side, and the design-work-you-love-and-get-paid-for-it side. Trust me, it's so much better to enjoy it."
In addition to this video Garlo provides access to a free guide. The guide is called "'Where Do I Start?' Professional Transformation for a Thriving, Fulfilling and Purposeful Life." It allows readers to take an inventory and create a "life map" that identifies what is important to them and create a smoother ride on their wheel of life.
~~~~~~~~~~~~~~~~~~~
Dolly Garlo, RN, JD, PCC-BCC, President of Thrive!!, founded the coaching, consulting and training company to help other professional women build solid business foundations for successful delivery of innovative services, create successful and profitable businesses, design fulfilling business-exit or career change and personal lifestyle transformations, and use their considerable skills and resources to make local or even global contributions. Her website is http://www.allthrive.com.
Working exclusively with compassionate business minded professionals, Dolly Garlo is on a continuing mission to change the way health care services are delivered in this country, particularly focused on the integrative medicine and complementary health care arenas. It has been her passion since graduating from nursing school 35 years ago and it's what drives her work to this day as a former health care attorney turned board certified professional coach and legacy development planner, with additional certification in financial coaching and retirement life planning.
She earned her BSN from the University of Michigan, and her JD from the University of Utah. She practiced as a critical care registered nurse in Medical and Shock/Trauma ICU, followed by 16 years practicing civil and administrative law (building and running her own law firm advising professionals and health care businesses). Dolly has been consulting with women professionals since 1997. An ardent environmental advocate, she developed her comprehensive legacy planning program as a result of experiences creating the Garlo Heritage Nature Preserve.