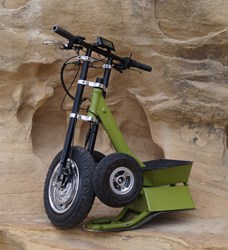 The Zuumer is the next-generation personal vehicle that is foldable, portable and can run up to 25 miles on a single charge.
San Diego, CA (PRWEB) December 12, 2013
The Zuumer PLC is a folding, lighter, transportable addition to the Zuumer zero-emission product line.
See Kickstarter Page: http://kck.st/1bvzST2
The innovative folding Zuumer PLC employs the company's patented technology to provide an exceptionally stable and intuitive ride that improves safety. First time riders just step on and go and the experienced rider can make it a fun sport. The Zuumer PLC is designed to fold and fit into the trunk of a car, the cargo hold of a private jet or yacht which makes the Zuumer not only useful but also convenient for people on the go.
The Zuumer PLC can change the way people commute over short distances. Commuters with short distances to travel to work can park their car and change their life.The Zuumer PLC can change the way short errands and commutes are done with safety and comfort.
The skeptical and the curious alike are invited to any of several Zuumer PLC demo rides all over the west coast between now and January 5, 2014 where all are welcomed to take out the Zuumer on a test drive and see for themselves. We will be creating exciting videos showing the world how easy and fun it is to ride the PLC.
Kickstarter participants will be able to compete to rename the Zuumer PLC. Please check the Kickstarter page for more details.
Contact us at : info(at)zuumcraft(dot)com
With adequate funding, ZuumCraft will be able to do some special manufacturing processes to lower the weight and add some "bling." All funds raised will go to new tooling, molds and some Hydro formed parts to make the Zuumer PLC (ZPLC) not only the coolest ride but also the coolest looking vehicle platform on the market.
This project will only be funded if at least $32,763 is pledged by Monday Jan 6, 2:59am EST.
See Kickstarter Page: http://kck.st/1bvzST2
About ZuumCraft, Inc.
ZuumCraft, Inc. – headquartered in San Diego, California, designs, manufactures and markets three-wheeled, personal use, Very Light Electric Vehicles (VLEV's) that enable an eco-friendly transportation lifestyle. The first model, the Ltd. Edition ZuumerTM, was under development and robust testing for over three years. The Zuumer's state-of the-art lean steering is Patented.
### ###
Note to editors: For more information about the ZUUMER PLCTM, or the company, then please visit http://www.ZUUMCRAFT.COM or contact Jim Scott at jscott(at)zuumcraft(dot)com.