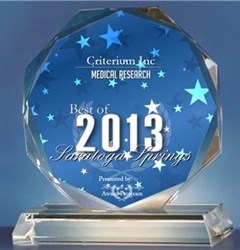 It's always an honor to be recognized for our excellent work in this field... Company President, John M. Hudak
Saratoga Springs, NY (PRWEB) December 12, 2013
Criterium Inc. has been selected for the 2013 Best of Saratoga Springs Award in the Medical Research category by the Saratoga Springs Award Program.
Each year, the Saratoga Springs Award Program identifies companies that we believe have achieved exceptional marketing success in their local community and business category. These are local companies that enhance the positive image of small business through service to their customers and our community. These exceptional companies help make the Saratoga Springs area a great place to live, work and play.
Various sources of information were gathered and analyzed to choose the winners in each category. The 2013 Saratoga Springs Award Program focuses on quality, not quantity. Winners are determined based on the information gathered both internally by the Saratoga Springs Award Program and data provided by third parties.
About Criterium
Criterium, Inc. is a full-service, global CRO (contract research organization) that offers a unique mix of high-quality clinical research services and communication processes for the pharmaceutical, biotech, and medical device industries to manage clinical trials from initial planning to FDA approval. Founded in 1991, Criterium's services are customized to fit each client's specific needs, providing a seamless flow of real-time data and information from the investigative site through Criterium and back to the sponsor — 24/7, in real-time.
Criterium's experienced team manages and implements clinical trials using technology-based solutions. Dedicated clinical professionals are committed to providing personal service and to forming strong and productive relationships with clients. Criterium's well-established staff are trained according to ICH GCP guidelines.
Corporate headquarters are located in Saratoga Springs, New York with offices in Florida, California, South Africa, India, and Canada, and representatives in-country in the EU, Israel, and Russia. As a global CRO, this multi-national approach enables Criterium to provide time- and cost-efficient study management and monitoring to all our clients. To learn more about Criterium, visit the website http://www.criteriuminc.com.
About Saratoga Springs Award Program
The Saratoga Springs Award Program is an annual awards program honoring the achievements and accomplishments of local businesses throughout the Saratoga Springs area. Recognition is given to those companies that have shown the ability to use their best practices and implemented programs to generate competitive advantages and long-term value. The Saratoga Springs Award Program was established to recognize the best of local businesses in our community. Our organization works exclusively with local business owners, trade groups, professional associations and other business advertising and marketing groups. Our mission is to recognize the small business community's contributions to the U.S. economy. CONTACT us at: Award Program Email: PublicRelations(at)businessrecognition(dot)org or http://www.businessrecognition.org.