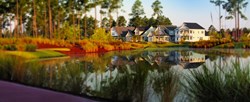 Wilmington North Carolina Community Bucks the Trend
Wilmington, North Carolina (PRWEB) December 11, 2013
At a time of the year when real estate interest typically slows, Brunswick Forest continues to buck the trend by attracting thousands of prospects to their community's social events and new neighborhood releases. All together, Real Estate Scorecard was informed the community hosted at least 5,000 visitors in the first 10 months of 2013.
What makes a great neighborhood? Is it a luxurious clubhouse, breathtaking scenery, or the friendly people that make one neighborhood stand out from all the rest? After reading hundreds of property owner reviews, friendly neighbors are right up on the top of the list states Real Estate Scorecard. Residents of Brunswick Forest neighborhoods have pride in saying their neighborhood is great and like the variety of home choices they had when they bought here. Wilmington NC new homes at Brunswick Forest combine a collection of great elements and green building techniques with a charming Southern community for the perfect balance of people and place.
Finding the perfect blend of amenities in a Wilmington coastal planned community is easy when you compare Brunswick Forest to other master planned communities. A top notch fitness and wellness center, award winning golf course, cozy community parks, authentic walking trails, and a river club are just a few. Choose from 8 outstanding Brunswick Forest neighborhoods in Wilmington: Ashwood, Cape Fear National, Evangeline, Meadow Park, Park Landing, Shelmore, Villamar, and Walden.
Here's what makes them different:
Ashwood
Ashwood attracts Baby Boomers seeking a lifestyle of rest and relaxation with its low-maintenance, beautifully proportioned single-level homes. Large windows guide light through the homes interior which includes spacious rooms surrounding a fully equipped central kitchen that leads to a large screened porch.
The laid back lifestyle of Ashwood at Brunswick Forest can also be an outdoor adventure. Your very own backyard is a playground of endless trails and paths leading through scenic areas of the Brunswick Forest, and into bordering parks and villages.
Cape Fear National
If a luxurious lifestyle alongside golfing greatness better describes perfect country club living, then Cape Fear National at Brunswick Forest has what you need. Wilmington NC new homes are custom built by top NC home builders and come with a scenic view of the Tim Cate-designed 18-hole championship golf course. The course was named by Golfweek Magazine as one of the 'Top 10 Best Courses You Can Play in NC'. Attend year round golfing events or escape to the neighborhood clubhouse for a delicious pulled pork french dip. Golf club membership is optional.
Evangeline
The neighborhood of Evangeline earns its title as a great neighborhood through its luxury custom built dream homes. This Brunswick Forest neighborhood contains a stylish mixture of beautiful villas, town homes, and luxury single-family homes. Hardwood flooring, granite countertops, and marble fireplaces are only a few of the many luxury elements to choose from when detailing your dream home.
Evangeline homes sit among protected nature areas, a neighborhood park, and the nearby Fitness & Wellness Center. It is known as a warm and friendly neighborhood with a quiet and peaceful landscape. Low-maintenance homes offer stress-free living in a neighborhood where home sites start as low as $100k.
Meadow Park
This stunning Wilmington coastal planned community gains its award-winning charm from the beautiful cottage homes that line Meadowsweet Lane. The quaint homes of Meadow Park are built upon a sturdy structure featuring metal roofs, and plank siding. The new homes boast a detailed exterior that embraces the Southern coastal charm.
Meadow Park is conveniently located next to amenities such as the Fitness and Wellness Center, The Villages, and professional and retail centers. Enjoy tranquility from a front porch rocking-chair overlooking the coastal cottages of Meadow Park.
Park Landing
If space and accessibility is what you are looking for, Park Landing is just the place for you. The Wilmington NC new homes of Park Landing have spacious floor plans that allow customizable details. Within walking distance to the community garden, residents can pluck sweet, ripe tomatoes straight from the vine. The Fitness & Wellness Center is also close by, allowing easy access to exercise equipment.
Shelmore
This great neighborhood embraces the Traditional style homes with a twist. On the outside, these beautiful bungalow homes are surrounded by a white picket fence and open front porch. The homes of Shelmore have an open floor plan creating a spacious environment, and they are customizable with premium kitchen details.
In the center of it all is a crystal lake encompassed by white sandy beaches. Enjoy the natural surroundings along local paths and trails through the Brunswick Forest, or spend an afternoon in the sunshine at Hammock Lake Park. The Hammocks at Shelmore is Brunswick Forest's newest neighborhood.
Villamar
Brunswick Forest neighborhoods each have a unique combination of amenities that make them great, and luxury awaits at the neighborhood of Villamar. Seclusion and tranquility is what you will find in these gorgeous Florida- style homes. Each of the eight floor plans offer spacious living areas with large windows and high ceilings.
Baby boomers looking to retire in Villamar fall in love with the low-maintenance lifestyle. Choose what you want to do, when you want to do it without any landscaping obligations. There are many parks and trails, such as Annsdale Park, to stroll through and explore.
Walden
More than half of the properties in Walden have a stunning lakefront view, and the others border parks and dedicated nature areas. Choose the amenities of your custom built home and bask in the beauty of a Wilmington coastal planned community. Walking paths lead to The Village at Brunswick Forest where residents can shop and dine all in one area. Some of the local businesses include Port City Java, Murray Art & Frame, and Hollywood Nails. Picnic in the 3 acre park or mediate by the lake.
The neighborhoods of Brunswick Forest each have their elements that combine to make a great neighborhood. Choose from a low-maintenance lifestyle in a luxury home, or tranquil living among the beauty of white sands and sparkling lakes.
Brunswick Forest offers a welcoming Discovery Package to experience the lifestyle up close. Contact Brett Russell direct at 910-343-5859 to schedule a tour.
About Real Estate Scorecard:
Real Estate Scorecard writes unbiased real estate reviews providing in-depth information about popular gated communities in Florida, Georgia, North Carolina, South Carolina and Tennessee, all in an effort to help people discover where to retire in the Southeast.
Website: http://realestatescorecard.com