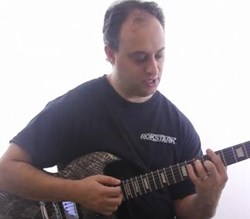 (PRWEB) December 11, 2013
In this guitar lesson, now available on YouTube.com, Claude Johnson teaches the basic blues guitar chords.
In this rhythm guitar lesson, Claude teaches the use of Dominant 7th chords for blues guitar. "A Dominant 7th chord is a four note chord, it has your root, third, fifth, and seventh," says Johnson.
Claude says that the blues can be played using major and minor chords as well, but for this lesson he focuses on 7th chords. 7th chords can be played in the open position and as bar chords. Claude starts off this lesson demonstrating 7th chords in the bar shape; the first example he teaches is A7 with the root note on the 6th string. For the guitarist that already knows the bar chord shape for a Major chord, you simply just lift off your fourth finger (pinky) and you get the 7th chord shape. If a guitarist does not already know this shape, the pattern that Claude uses is to bar the first finger across all six strings at the 5th fret and the middle finger and the 6th fret of the 3rd string and the 3rd finger on the 7th fret of the 5th string. Just like other bar chords, this shape is moveable, so what ever note the fretting on the 6th string is the root note. The next shape Claude demonstrates is with the root note on the 5th string by baring the first finger across 5th fret of the 5th string and the 3rd finger on the 7th fret of the 4th string and the 3rd finger on the 7th fret of the second string and then strum all of the strings except the 6th string, get D7, since the 5th fret of the 5th string is D, this shape too is moveable. Claude continues using some other bluesy shapes that omit the 5th from the chord that consist of root-3rd-flat 7-8 (root one octave higher). Claude talks about how these shapes can be also made into 9th and 13th chord shapes as well. All of this and more can be found at GuitarControl.com/blues.
Claude Johnson
Claude Johnson, a native of Philadelphia PA, began playing guitar in 1990 after being inspired by players like Jimi Hendrix, Eric Clapton, and Stevie Ray Vaughn. He is the creator of GuitarControl.com and has helped 1000's of people to learn to play the guitar with his critically acclaimed instructional DVD courses, all available at GuitarControl.com.
About GuitarControl.com
GuitarControl.com is the leader in modern guitar instruction. It's packed with resourses including articles, video lessons, and the best videos in the business for the beginner to the advanced guitar student taught by the best instructors out there. Weather you are into the blues, rock, jazz, metal, folk, or anything in between, they have you covered.