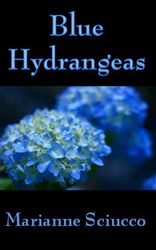 "Keep it simple. If all you can manage is to put up a tree and bake a ham, know that this is a good enough."
Middletown, NY (PRWEB) December 11, 2013
Marianne Sciucco, author of Kindle bestseller "Blue Hydrangeas", an Alzheimer's love story, shares six simple strategies to make the holiday season merrier for those juggling holiday stressors and the care of a loved one with dementia.
The holidays are a difficult time for some people. So much to prepare, shop, bake, cook, and wrap. So many to please - children, spouses, parents, siblings, friends, and coworkers. The weeks leading to Christmas and New Year's come with a long list of responsibilities and duties, which can exhaust anyone trying to create a memorable season. For caregivers of those with Alzheimer's disease or dementia, the level of stress skyrockets as they try to balance both caregiving duties and holiday preparations.
"Most of us tend to set unrealistic expectations for the holidays," says Sciucco, a registered nurse and certified case manager. "We want everything to be perfect. The first step to imposing sanity is to set realistic goals. Make a list of what you'd like to do in the coming days before Christmas and simplify it to those that are necessary and add joy to the occasion. Decline or postpone activities and social obligations that are more strain than pleasure to a less hectic time."
"We've all heard the old adage 'less is more,'" says Sciucco, whose novel was recently featured on Dementia Journeys, Alzheimer's Support, and The Fussy Librarian. "Keep it simple. If all you can manage is to put up a tree and bake a ham, know that this is a good enough. Much of the pleasure in Christmas is sharing time with those we love, and the frills are only dressing. Although it can be hard to let go of cherished holiday traditions, such as displaying your collection of old world Santas or the life-sized nativity on the lawn, give yourself permission to leave them in their boxes this year. Perhaps next year things will be different."
The Christmas season is all about joy, Sciucco reminds us. "Enjoy this time with your loved one. Ask them to help with preparations to the best of their ability. Many with dementia are able to complete simple tasks, such as mixing cookie dough or setting out decorations. Include them in your decision-making regarding the menu or what to buy the grandchildren."
Sciucco also recommends shopping from home to avoid the holiday frenzy in the malls. Whether online or from catalogs, you can do so at your convenience, and steer clear of traffic and long lines.
Another strategy for a less stressful season is to avoid difficult people. "We all know who they are," Sciucco says. "If at all possible, minimize contact with those who will not be helpful or add to the event. If this is not possible, make your expectations for them clear ahead of time to ward off unpleasant encounters."
The best way to ensure a successful holiday? Ask for help. Sciucco advises caregivers to call on family and friends to assist with tasks such as decorating and wrapping, or ask them to stay with your loved one so you can get much needed time outside the home. You may also hire someone from a reputable agency to watch your loved one or utilize respite care at the local senior day care program.
About the Author
Marianne Sciucco is not a nurse who writes but a writer who happens to be a nurse. Her debut novel, "Blue Hydrangeas," an Alzheimer's love story, is available on Amazon in both Kindle and paperback, and on Apple's iBooks, Barnes & Noble's Nook,and the Vook Store. Sciucco penned the novel, rated 4.8 stars by Amazon readers, based on her experiences as a registered nurse and certified case manager working with dementia patients and their families at an upstate New York hospital and several area nursing homes.