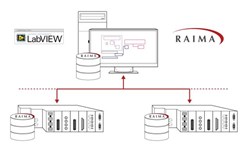 With Raima Database API for LabVIEW and RDM 12.0, embedded developers have simple access to a proven, industrial database solution that will cut development costs, optimise performance, improve reliability and simplify maintenance
Seattle, WA (PRWEB) December 12, 2013
RDM Embedded is a fast, cross-platform in-memory database with a track record in some of the world's most demanding applications. It provides robust, industrial-grade data storage, data retrieval and data manipulation capabilities for embedded or live real-time applications.
Raima Database API for LabVIEW enables users to program and test systems within a LabVIEW native interface, based on the standard ODBC API, providing seamless database access from within LabVIEW and eliminating external database connectivity and communication headaches during programming. Users can program and test in LabVIEW under Windows, and then move the program to NI CompactRIO devices running NI Linux Real-Time or VxWorks for run-time operation. Interoperation between the three platforms is seamless, facilitating device to server data flow, including SCADA or external SQL Servers.
RDM12.0 allows users to store, manage and access data directly from within LabVIEW, a flexibility that will increase performance and productivity. It does away with the need for additional drivers and toolkits, and the problems of setting up communications to external databases. Databases may be stored directly on CompactRIO devices or accessed on other devices. Databases may be shared and used within a network of devices, providing both distributed data access and local security with high performance. Standalone, connected or intermittent operation is supported.
The RDM Embedded database engine has been developed to fully utilize multi-core processors, run with minimal memory, and support both in-memory and on-disk storage. Optimised for embedded systems and applications, it provides a small footprint subset of the ANSI/ISO standard SQL, which is suitable for running on a wide variety of computers and embedded operating systems that may have limited resources.
Raima is a NI Alliance Partner and this strategic relationship between the two companies has brought an important new data management functionality to applications deployed on NI CompactRIO and NI Single-Board RIO devices, with a set of intuitive and easy-to-use VIs (Virtual Instruments), callable from within LabVIEW's familiar interface. RDM for LabVIEW can be downloaded from http://www.ni.com/labviewtools/raima.
Wayne Warren, CTO of Raima says: "Fast, seamless, connected, integrated data management is essential for today's sophisticated systems. Further, data management systems need to be reliable, flexible and scalable. With Raima Database API for LabVIEW and RDM 12.0, embedded developers have simple access to a proven, industrial database solution that will cut development costs, optimise performance, improve reliability and simplify maintenance."
The LabVIEW Tools Network is the premier app store equipping engineers and scientists with certified, third-party add-ons to help accelerate productivity and lower project costs. Developed by industry experts, these cutting-edge technologies can expand the power of NI LabVIEW graphical system design software and National Instruments modular I/O hardware. Each third-party product is rigorously tested to meet all certification guidelines and ensure compatibility with LabVIEW. With more than 175 software add-on tools, the LabVIEW Tools Network is part of a rich community that furthers the successful impact engineers and scientists have on our world. Learn more at ni.com/labviewtools.