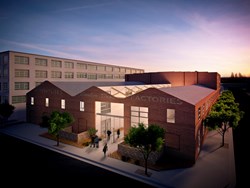 What we have been able to achieve by preserving the historic elements and fine craftsmanship of this landmark building—and integrating those virtues with modern comforts and conveniences—offers outstanding and lasting value for prospective homeowners
Los Angeles, CA (PRWEB) December 11, 2013
The only new-construction, for-sale housing opportunity in Downtown Los Angeles is coming on the market Jan. 11 when Warehouse No. 1, the final phase of Barker Block, debuts in the Arts District.
The Kor Group, the developer in partnership with Blackstone and CityView, is creating 68 adaptive reuse lofts that will add an additional 72,599 square-feet to the existing 242 live/work lofts in the neighboring building that was completed in 2007.
Affordably priced from $400,000, the one- and two-story lofts at Warehouse No.1 are housed in a reinvented and restored early 20th-century Barker Bros. Furniture factory and warehouse. The Kor Group is preserving the building's original details including exposed brick, heavy timber beams and columns, wood and concrete floors. One-story lofts range in size from 679 to 2,000+ square-feet while two-story lofts range from 1,134 to 1,300+ square-feet. Construction is nearly finished and completion is expected late December 2013.
Sales will begin during the grand opening weekend on Saturday, Jan. 11 and Sunday, Jan. 12 from 10am to 6pm where there will be seasonal hors d'oeuvres, craft beer and wine, music, valet parking, tours of the property and lenders on-site. Barker Block is in the process of procuring its final FNMA approval and loans with as little as five percent down will be available for qualified buyers.
"We are thrilled to bring Warehouse No.1 to market this January. What we have been able to achieve by preserving the historic elements and fine craftsmanship of this landmark building—and integrating those virtues with modern comforts and conveniences—offers outstanding and lasting value for prospective homeowners," says Tripp DuBois of The Kor Group, creators of the iconic Eastern Columbia and Viceroy Santa Monica. "The Kor Group is committed to creating sustainable, well-designed, and thoughtful places to live and work, and Warehouse No.1 is a project of which we are exceptionally proud. In this second and final phase of Barker Block, buyers will experience the inimitable and authentic spirit and character of the building's vintage past, as well as innovative amenities that exceed any other residential offering in the Arts District in downtown Los Angeles."
Unique to Warehouse No. 1, select residences will include oversized windows, private patios and balconies, two-story open floor plans, spacious closets and ceiling heights up to 18 feet. All lofts have interior details such as quartz kitchen countertops with custom wood cabinetry and Jenn-Air stainless steel appliance packages with gas ranges. Spacious bathrooms include oversized soaking tubs with ceramic tile walls, flooring and vanity lighting.
The lofts also incorporate new technology features like the convenience of Nest programmable thermostats and charging stations with USB ports. In reclaiming, renovating and repurposing this historic building, The Kor Group is preserving elements of character while delivering the environmentally-friendly benefits of removing fewer raw materials from the Earth. These energy-efficient homes will utilize insulated dual pane windows and Energy Star appliances.
Several new amenities for owners are being added in the final phase including the Warehouse No. 1 Gallery, a dynamic arts and events space curated by the Barker Block community that features a versatile social space with handcrafted hanging chairs. Other new additions include a welcoming garden-themed outdoor lounge complete with green canopy, water fountain, fireplace, grills and intimate seating areas for dining and conversation. The open-air courtyard with foliage incorporates unique touches such as hammocks and love seats suspended from rafters and decorative lighting to add charm and style.
Existing amenities include a resort-style rooftop deck with pool, spa, private cabanas, sunning lounge, sitting and gathering areas, outdoor fireplace and privacy landscaping that overlooks the city skyline, a fitness center with state-of-the-art equipment, onsite, controlled parking, a formal reception lobby with secured access and 24/7 security.
Barker Block is the result of a $175 million investment that helped turn a forgotten warehouse district into a vital and creative work live community. Nakada and Associates served as the architecture design firm and Mark Tessier is the landscape architect.
For more information about Warehouse No. 1 at Barker Block and to schedule an appointment for the grand opening weekend, visit http://www.barkerblock.com or call 213-620-9650. The Barker Block sales office is located at 510 S. Hewitt Street, Unit 105, at the corner of 5th and Hewitt Streets.
About The Kor Group
Founded in 1999, The Kor Group is a fully-integrated real estate investment, development and management firm that also works with third-party clients to deliver a comprehensive package of advisory services. Kor has been recognized in the industry as a leading innovator in the design and development of lifestyle properties. Its track record demonstrates its expertise in bringing new life to an investment, often through design coupled with extensive rehabilitation and repositioning. By fusing creative design with an agile investment and development discipline, Kor has amassed a portfolio of high performing assets and has built a signature brand translatable across its properties. Since inception, Kor has acquired and developed hospitality, residential, and office assets valued in excess of $2 billion. Kor was also the force behind the origination and development of the renowned Viceroy hotel brand, whose immense success led to the spin-off of its hotel management division, Viceroy Hotel Group, in 2008. Today, Kor maintains the same commitment to creative design and distinctive branding to bring enhanced value to its investments and the investments of its third-party clients. Visit http://www.thekorgroup.com.
About CityView
Headquartered in Los Angeles with offices in New York, San Francisco, and San
Antonio, CityView is one of the nation's premier institutional investment firms focused on
urban real estate. CityView was founded in 2003 by Henry Cisneros, Secretary of the U.S. Department of Housing and Urban Development in President Clinton's Administration, with the mission of providing "Smart Capital for Smart Growth". To date, CityView has financed projects in 72 communities across 13 states. For more information, visit http://www.cityview.com.
###