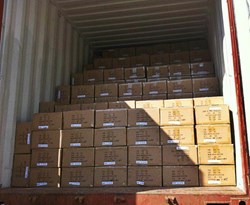 Our dedicated team has been producing 10,000 solar light bulbs per day now, and we are partnering with wonderful organizations to move some of these units to help those affected by the Typhoon Haiyan. - founder and CEO Steve Katsaros
Denver, CO (PRWEB) December 10, 2013
Due to increasing demand for Nokero International, Ltd. products, they announced a ramp up of production to an average of 10,000 solar light bulbs each day through its Chinese manufacturers.
Many of the lights have been sent to the Philippines to fulfill recent humanitarian and disaster relief efforts after the typhoon, and a large quantity of lights are dedicated to fulfilling demand in Indonesia. Additionally, N200 lights have recently been sent around the world for distribution in Australia, Ecuador, Fiji, Ghana, Haiti, Japan, Kenya, and Sri Lanka. "Our dedicated team has been producing 10,000 solar light bulbs per day now, and we are partnering with wonderful organizations to move some of these units to help those affected by the Typhoon Haiyan," said founder and CEO Steve Katsaros.
The N200 is Nokero's capstone product, which features an integrated solar panel that provides up to 8 hours of light for every 6 hours that it is charged. The small, green light bulb is trademarked as the "World's Only Solar Light Bulb" and has been sold in 127 countries within the past 4 years. It is an economical and safe solution to dangerous kerosene lamps used in many developing nations. It has also been increasingly popular for camping, backpacking, gardening, and patio decorations, particularly in the United States and Australia. Purchase your Nokero lights online at http://store.nokero.com.
About Nokero
Nokero (short for "No Kerosene") designs, manufactures and collectively distributes safe, affordable, and environmentally-friendly solar based technologies. Our solar lights and solar battery chargers are high-quality and low-cost, eliminating the need for harmful and polluting fuels around the world.