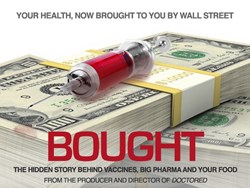 New York, NY (PRWEB) December 11, 2013
Jeff Hays, Executive Producer of Bought, today announced the New York City-based Selz Foundation has generously committed up to $150,000 in a matching funds grant for the controversial film Bought.
Bought is a film dedicated to uncovering, exposing and highlighting the facts all individuals have a right to know about the food supply, Big Pharma and vaccines. The movie features such individuals as:

Allen Jones – Whistleblower and former investigator in Pennsylvania Office of the Inspector General
Dr. David Healy, PhD – Psychiatrist, Scientist, Psychopharmacologist and Author
Dr. Andrew Wakefield
Barbara Loe Fisher – President of the National Vaccine Information Center
Interviews are being conducted by Toni Bark, M.D., a respected Disaster Medicine Specialist. The film is informative and filled with cited facts and research to support the expert's statements.
"I have seen the research and it is extremely frightening. Every American should be educated about what is in the food they eat every day, the potential side effects of vaccines and the truth behind Big Pharma," said Jeff Hays, producer of Bought. "There are many companies that are buying the health and well being of citizens. It's time we ban together and stand up for ourselves, our health and our world…let them know we cannot be bought! I am pleased that an organization such as the Selz Foundation agrees and has boldly stepped up with this matching grant."
Bought has enlisted the public in the fund raising activities and are hosting their campaign on the popular Indiegogo site, at http://www.supportboughtmovie.com.
About
Bought is a film about the issue of health being sold out from underneath individuals through big pharmaceutical companies, dangerous vaccinations and a food supply chain contaminated by the use of GMO's. Jeff Hays started Capstone Entertainment in the mid-nineties and built a production/distribution company to a multi-million dollar level and won numerous awards in children's programming. One of Jeff's most notable films was Fahrenhype 9/11, which he produced in 2004 featuring Ron Silver, Dick Morris, Senator Zell Miller, Mayor Ed Koch and others. This film generated millions in revenue and was widely accepted by the public and received positive reviews from the NY Times, Variety and other media. In 2005, Jeff produced On Native Soil where he was short-listed for an Academy Award. He also produced My Workout on Lifetime Television for a year and most recently released Doctored which has already sold over 150,000 copies. Bought is currently scheduled to be released Spring 2014. For more information go to http://www.SupportBoughtMovie.com or contact Renee Stewart at 866.519.5445 or rstewart(at)TabooPR(dot)com.