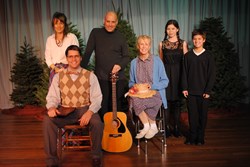 A beautiful, sweet, rich, funny, fun, innocent, nostalgic prose poem from the pen of a literary genius.
Pasadena, CA (PRWEB) December 10, 2013
This unique adaptation of Truman Capote's "A Christmas Memory," originally written and directed for the stage by Joe York circa 1990 in Austin, is being brought back for the second straight year in Old Town Pasadena. Performances are scheduled for this Friday, December 13 at 8:00 p.m. and Saturday, December 14 at 2:00 p.m. and 8:00 p.m. The performance is open to the public and tickets have a suggested donation value of $25 which will benefit Pasadena Waldorf School.
The show itself is a labor of love for its creative team, and it evolved over its early years in Austin with the addition of the hauntingly beautiful musical score written by Mark Viator. Returning each Christmas season by popular demand, the local production had been called "the crown jewel of the Christmas season" by Michael Barnes, the critic for the Austin American Statesman. The show continues to run in Austin with another actress playing "the cousin." The actress who originated the role, Jill Parker-Jones, now performs the version being presented at the intimate theatre at the Rudolf Steiner Community Center in Old Town Pasadena.
Several years ago, Stephanie Wing-Garcia started The Woodshed theatre company and began producing intimate performances of the show with various actors and musicians. Not coincidentally, Ms Wing-Garcia has loved the show since she was a teenager, having virtually grown up with it as the daughter of Ms Parker-Jones. Now, it is Ms Wing-Garcia's passion to give the gift of this performance to others.
In 2012, the Pasadena Waldorf School (PWS) was planning a holiday season benefit and Ms Wing-Garcia offered to put up the show along with a talented cast culled from fellow parents in the school. Co-star Andrew Heffernan had attended Penn State with Ms Wing-Garcia and now they found themselves joined again by having children in the same class at PWS. Fellow parent Adam Wilner has assumed the musical duties, completing the foundation of this elegantly simple play.
"A Christmas Memory" is a beautiful, sweet, rich, funny, fun, innocent, nostalgic prose poem written with the love of a 6-year-old boy's heart from the pen of a literary genius.
The Rudolf Steiner Community Center is located at 110 Martin Alley, Old Town Pasadena.
Click here for tickets and more information.
This event is sponsored by Pasadena Waldorf School. All proceeds from the performance benefit PWS and will be matched by a grant from the Los Angeles Anthroposophical Society for a maximum of $10,000.