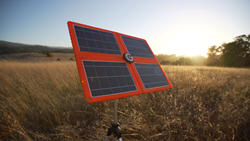 Solar electricity should be available to anyone, anywhere, and anytime.
Portola Valley, California (PRWEB) December 12, 2013
Giga Solar FPC a new company in the fast-emerging portable solar charging market has pioneered "SolarGami" ("solar + origami"), a folding, lightweight 25-watt solar charging system. When SolarGami is folded for transport, it is the size of a typical tablet computer and weighs less than 4 lbs. The battery is integrated but detachable, providing a way to charge mobile devices with clean power whenever and wherever needed.
SolarGami is based on a composite material that replaces the glass in a traditional PV module, thereby significantly reducing its weight without sacrificing electrical output. Modules using Giga Solar's composite technology weigh as much as 85% less than traditional glass modules, leading to reduced costs in transportation and installation. Additionally, SolarGami's composite uses recycled polyester (PET) bottles, a major source of land and water pollution in the world. SolarGami is intended to be used in a wide-range of mobile activities such as camping, backpacking, boating, traveling, as well as, in any power-outage situations.
SolarGami incorporates a 46Wh (or optional 92Wh) lithium battery allowing for multiple, simultaneous charging of phones and tablets at speeds equal to that of a wall-plug. The battery is designed with four USB ports as well as an AC-charging port for when the sun is not available.
"Giga Solar was founded with the belief that our sun can and should provide electrical energy to anyone, anywhere and at anytime. We thought that a good place to start was in powering our mobile electronic devices," said Tom Hood, CEO of Giga Solar. "Mobile phones and tablet computers need to be recharged constantly. Globally, SolarGami has the potential to save the same amount of energy that it takes to power 1.5 million U.S. homes for a year."
Hood says, "We've introduced SolarGami through Kickstarter, a popular crowdfunding platform. The Company plans to start shipping SolarGami in the summer of 2014."
Giga Solar FPC, Inc. is a California Flexible Purpose Corporation (FPC). It's mission is to leverage the low-cost and broad availability of crystalline silicon photovoltaic (PV) cells with new module materials and innovative designs that lower the cost of installed systems, improve the functionality and broadens the adoption rate across numerous applications and market verticals. Giga Solar's social mission is "improving the quality of life of all people in the world through accessible, affordable, and environmentally conscious solar products."