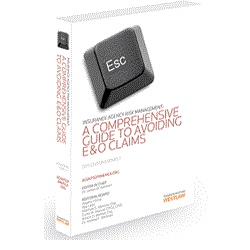 To have someone of Fred's expertise and passion on the AOA Editorial Board is truly exciting. We are confident that Fred's involvement and input will be instrumental in AOA providing insurance industry professionals with the knowledge they need to enhance
Las Vegas, NV (PRWEB) December 17, 2013
AgentsofAmerica.ORG (AOA) is extremely pleased to announce the addition of insurance expert Frederick J. Fisher, J.D. to the AOA Editorial Board. Mr. Fisher has been extremely active in educating agents on a wide host of issues for over 35 years and has authored articles on a wide range on industry issues and topics.
"To have someone of Fred's expertise and passion on the AOA Editorial Board is truly exciting. We are confident that Fred's involvement and input will be instrumental in AOA providing insurance industry professionals with the knowledge they need to enhance their E&O culture." says Curtis M. Pearsall, Executive Director of the Agents of America Learning Center.
"I am honored to be part of this exciting and important organization. For over 35 years, many of us have been preaching loss control and claim prevention, if for no other reason than passively allowing our Insurance Companies to "take care of it" is no longer an option nor advisable, Claim prevention is best for all. Having recently reviewed "Book One" of A Comprehensive Guide to Avoiding E&O Claims, I can state without question that this is a must have reference manual for all to read, refer to and learn from." said Frederick J. Fisher, J.D, of E.L.M. Insurance Brokers.
Book Two, which deals with the wide range of E&O issues relating to this sales process and addresses key issues that every agent needs to understand and be focused on is scheduled for publication in early 2014. Book Three, scheduled for publication in the Spring of 2014, details the E&O exposures of over 15 different lines of business. AOA is planning on the development of at least one new book each year. Discussion on the content of Book Four is currently under consideration.
Most recently AOA announced that it has begun the development of a series of videos based upon the contents of "Book One". The videos will be unitized as an additional tool and resource to support the Books and Continuing Education initiative. Our first video deals with Documentation - The Key to E&O Management one of the leading causes of claims being made against insurance agents. In addition, the videos can be modified and customized to meet the needs of Insurance Companies or Organizations looking to use them as medium to educate their clients and as well as to keep them informed of the latest trends and issues.
AgentsofAmerica.ORG is extremely grateful to its authors and editorial board for their support and expertise. In addition to E&O Insurance expert Curtis Pearsall, the members of the AOA's Editorial Board includes, Editor in Chief, Dr James Kallman of St. Edwards' University, Minneapolis E&O defense attorney Britton Weimer of Jones Satre & Weimer PLLC, Professor Andrew Whitman of the University of Minnesota's Carlson School of Management, Roy Little, President and CEO at Insurance Educational Association, Angelo J. Gioia Founder & Publisher of AgentsofAmerica.ORG, Matthew Marrone defense attorney with Goldberg Segalla LLP in Philadelphia and Frederick J. Fisher, J.D, Founder and current SVP of E.L.M. Insurance Brokers.
Questions or comments should be directed to either Angelo Gioia at angelo(at)agentsofamerica((dot)org or Curtis M. Pearsall at cpearsall(at)agentsofamerica(dot)org.
About AgentsofAmerica.ORG
AgentsofAmerica.ORG is an Insurance Association dedicated to the personal and professional growth of its Insurance Agents & Brokers members and their agencies and a indispensable resource for news, products, services, continuing education, and industry information throughout America The organization's mission is to deliver the BEST people, products, information, and services to agents all designed to help them manage and grow their business and provide ongoing value to their clients. In addition, it has become the number one resource for connecting insurance agents with industry professionals, support and guidance on Professional Liability Risk Management, Errors & Omissions Risk Management, Loss Prevention & Loss Control, Insurance Agency revenue building products and opportunities. Our motto is "Bringing the BEST Together." Visit AgentsofAmerica.ORG for more information.