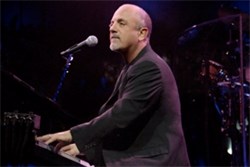 New York, NY (PRWEB) December 10, 2013
By any standard, Billy Joel is an American icon, who at the same time, remains as down-to-earth as any other person. As a singer-songwriter, Billy Joel brings to the concert stage more than 40 years of song and music and his upcoming concert tour promises to be an eye-opener for old-time and new fans alike.
Presale tickets for his upcoming concerts in Pittsburgh PA at the Consol Energy Center, Auburn Hills MI (Detroit) at the Palace of Auburn Hills, Hollywood CA (Los Angeles) at the Hollywood Bowl and Raleigh NC at the PNC Arena will be available to the general public beginning on Wednesday, December 11th.
Billy Joel's career has been nothing short of phenomenal. Starting from the 1970s, Joel has had 12 albums, which have reached an aggregate 33 Top 40 singles. All in all, he has sold more than 150 million copies of his records. He was nominated for 23 Grammy Awards, winning 6 times. In 1992, he was inducted into the Songwriters' Hall of Fame. He was also inducted into the Rock and Roll Hall of Fame in 1999, and into the Long Island Music Hall of Fame in 2006. In addition, the Songwriters Hall of Fame awarded him with the Johnny Mercer Award in 2001.
Unlike his previous years' concerts, his 2014 shows will most probably showcase less of his hits. At a recent intimate concert at the Paramount Theater in Huntington Long Island, he performed his lesser known songs. Younger fans were unfamiliar with some of the songs during the first part of the set, which included "Room of Her Own", "Stop in Nevada," "Blonde Over Blue," and "This is the Time." But the fans weren't disappointed when he picked up the set during the second half with a string of his hit songs.
Ticket Down encourages concertgoers to use their exclusive customer appreciation promo code BILLYJOEL on tickets for Billy Joel at the Hollywood Bowl, Consol Energy Center, PNC Arena and The Palace of Auburn Hills.