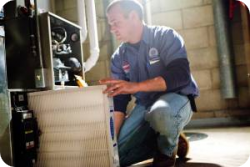 Rochester, MN (PRWEB) December 12, 2013
Tonna Mechanical is offering indoor air quality testing this winter at no charge. When seeking furnace repair Inver Grove Heights residents and other Rochester suburbanites are advised to take advantage of this offer.
The winter season usually finds most Minnesotans huddled inside trying to stay warm, weather it be in the comfort of their own home, or the familiarity of their workplace. But being inside for such long periods of time can be toxic, especially if the air you are breathing is polluted with harmful levels of allergens or gases.
Indoor air can easily become polluted, even in the cleanest of homes, and especially during the winter months when homes are sealed and have little air circulation. Contaminants seep in via pets, consumer products like furniture and new clothing, and dirt tracked in from shoes.
To test indoor air quality, Tonna uses state-of-the-art equipment to complete an in-depth analysis of the inside air. Harmful levels of airborne pollutants, such as particle allergens (dust, pet dander, pollen), carbon dioxide, harmful gasses (VOC's, carbon monoxide), and radon can be detected, as well us unhealthy levels of humidity. Dependent upon the findings, the technician can then recommend a course of action that will provide solutions to clearing the air and eliminating the pollutants.
To schedule an indoor air quality test, contact Tonna Mechanical at 507-216-0033 or visit their website at http://www.rochestercarrierdealer.com.
About Tonna Mechanical:
Tonna Mechanical has been serving the heating, ventilation, air conditioning, and refrigeration needs of residential and commercial properties in Rochester and Southeastern Minnesota since 1976. An authorized Carrier Dealer, Tonna is part of the Stay Comfy Minnesota network and uses NATE certified technicians.