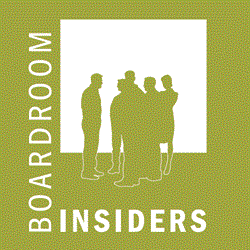 The complete profile of Barra can be found at boardroominsiders.com.
(PRWEB) December 12, 2013
Boardroom Insiders analysts track executive changes across the Fortune 500 and complete detailed profiles of new CXOs. Recently they completed a detailed profile of Mary Barra, GM's newly-named CEO, as well as 12 other incoming CEOs, covering personal and professional details, as well as philosophies, strategies and challenges for the freshman company leaders.
The complete profile of Barra can be found at Boardroom Insiders and is available at no charge for a limited time. Details in the report include:

Barra's upbringing in the Detroit suburbs and her lifelong love of American cars
Barra's educational background and early career with GM--which included a stint as former CEO Jack Smith's executive assistant
Barra's most recent role, which included overseeing a budget of $15 billion for 29,000 employees on five continents
Family life, personal interests, philanthropy and hobbies
Leadership style and philosophy and her outlook on making her career in a male-dominated industry
Current business focus and key challenges
Boards and organizations with which she is involved
Please click here to read Barra's complete profile.
Boardroom Insiders has also profiled the following incoming Fortune 500 CEOs:
Douglas Peterson - McGraw-Hill
Steven Voorhees - Rock-Tenn
Randy Quirk - Fidelity National Financial
Brad Barron - NuStar Energy
R. Milton Johnson - HCA Inc.
W. Rodney McMullen - Kroger
Robert D. Marcus - Time Warner Cable
John McAvoy - Consolidated Edison
Jacqueline Hinman - CH2M Hill
W. Anthony Will - CF Industries Holdings
Doug McMillon - Wal-Mart Stores
Roland Smith - Office Depot
For Barras' complete profile, as well as more executive profiles, please visit http://www.boardroominsiders.com.
Boardroom Insiders maintains a database of thousands of C-level executive profiles, tracking personal details, biographical history and current business issues. Enterprise sales and marketing professionals use Boardroom Insiders insight to learn more about their customers and close bigger deals, faster.