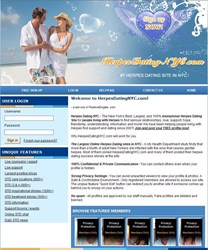 Meet Singles with Herpes in New York City!
(PRWEB) December 16, 2013
One member of HerpesDatingNYC.com recently has some questions about dating with herpes. "When do you tell someone that you have got the herpes? I can chat with guys on text or email and get along great with them but then when I tell them I have got herpes, they either A) Don't care or B) Run & hide. When is the best time to tell someone the "secret", or have 'the talk' "?
In the responding email, Scott, the STD counselor of HerpesDatingNYC.com gives his tips on when and how to tell your potential partner you have herpes.
Firstly, it's better tell a partner about herpes after a couple of dates. Waiting two or three dates to know the other person. Ideally, it's better to tell someone about the situation who's supportive and who can be trusted. A person wouldn't want anyone in his social circle to know about his situation. The only person who needs to know about the situation is someone who he is going to have a potential relationship with. Some partners may want to know about the situation after the first date. There is really no right or wrong time to tell a partner about the herpes situation. A person will find the right time to tell a partner about his situation that works for him.
Secondly, before telling a partner about the herpes situation, do research and be prepared to answer any questions the other person may have. Think about how to have the talk with a partner. Prepare to remain calm.
Thirdly, it's important to keep a positive attitude, speak with a normal voice and to make eye contact. When talking to a partner, think about a positive words. For example, "I'm really happy with our relationship. I enjoy your company. There is something we need to talk about".
Fourthly, Scott said "you want to talk to a partner at a quiet place where both of you are alone. Don't tell a partner about your situation during the heat of the moment. It's also important to allow a person time to think about his or her choice if needed."
Finally, there are going to be potential partner's who won't date someone and some who will. Meeting the match depends mostly on how strong a couple feels for another. It can be a process meeting the match.
HerpesDatingNYC.com provides a great community for herpes singles and friends in the New York City. It is hard to date again after being diagnosed with herpes. Niche herpes dating sites make it easier to find love and support. No need to have "the talk" at the site. The counselor can give advice about how to date and live better with herpes.
To know more tips, please visit http://www.herpesdatingnyc.com .