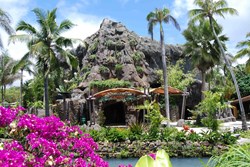 Laie, HI (PRWEB) December 11, 2013
The Polynesian Cultural Center's (PCC) dedication to enhancing the guest experience with arts and culture has resulted in being awarded one of the attraction industry's highest honors, a Thea Award for Outstanding Achievement.
Presented by the Themed Entertainment Association, the Thea Awards, now in its 20th year, is considered the entertainment and attraction industry's highest honor and recognizes excellence in the creation of outstanding guest experiences.
The PCC is one of only 13 attractions worldwide to earn Thea Awards. PCC's Thea Award for Outstanding Achievement is a tribute to its new Hawaiian Journey cinematic presentation and re-design of the Gateway restaurant. The recipients will be honored at a special awards gala at Disneyland Resort in Anaheim on April 5, 2014.
"It's a tremendous honor to win the Thea Award and see the Polynesian Cultural Center placed alongside some of the biggest names in the global entertainment and attractions industry," said Alfred Grace, PCC's President and CEO. "We've been putting a great deal of energy into revitalizing our guest experiences and facilities to better showcase the diverse cultures and people of Hawaii and the rest of Polynesia."
Celebrating its 50th anniversary this year, the PCC is scheduled to complete more than $100 million in experiential and facility improvements by the end of 2014, of which the introduction of Hawaiian Journey and the re-designed Gateway restaurant have been key to this overall effort.
Hawaiian Journey
Hawaiian Journey, PCC's all-new immersive cinematic experience, debuted in March 2013. An original production, Hawaiian Journey tells the story of native Hawaiians and their connection to the aina (land), transporting guests into gorgeous imagery of the Hawaiian Islands as they experience crashing waves, mystic valleys, and powerful eruptions through interactive special effects.
The Hawaiian Journey theater boasts a state-of-the art, high-definition, digital 4K projection system and 40'x74' projection screen, the largest in Hawaii. The exterior structure is designed to depict the kind of active volcano that formed the Hawaiian Islands, highlighted by waterfalls, "breathing" steam vents, and lush landscaping.
Gateway Restaurant
PCC opened the renovated Gateway restaurant in 2011, with a new design that showcases the cultural architecture of authentic Hawaii. Massive doors 12-feet tall and 6-feet wide, and intricately carved with Hawaiian symbols and graphics, open to a grand dining hall highlighted by stately Koa wood columns, shell torches providing ambient lighting, and a woven thatched ceiling. The signature feature is a spectacular 8,000-square-foot mural encircling the interior that shows a Hawaiian king welcoming his Polynesian brothers and sisters to join in the feast and fellowship.
At 24,400 square feet, Gateway is one of the largest enclosed restaurants and special events venues on Oahu, with seating for more than 1,000. Guests can choose from the Island Buffet Dinner featuring a feast of Hawaiian, Asian and local favorites, or upgrade to the Prime Rib Dining buffet, which also offers crab legs, prime rib and more.
For more information about the Polynesian Cultural Center or to make reservations, call (800) 367-7060 or visit http://www.Polynesia.com. On Oahu, call (808) 293-3333.
###
About PCC
The only cultural tourist attraction of its kind in the world and a favorite of all visitors to Hawaii, the Polynesian Cultural Center (PCC) is celebrating its 50th anniversary in 2013. An engaging, interactive celebration showcasing the people, culture, arts and crafts of Polynesia, the PCC has entertained more than 37 million visitors from around the world in its first 50 years. A non-profit organization, 100 percent of PCC's revenue goes to daily operations and to support the education of its student-employees from neighboring Brigham Young University-Hawaii.
About TEA
The TEA (Themed Entertainment Association) is an international nonprofit alliance founded in 1991 and based in Burbank, Calif. Some 1,000 TEA members represent roughly 8,000 creative specialists, from architects to designers, technical specialists to master planners, scenic fabricators to artists, and builders to feasibility analysts working in 30 US states and 40 different countries. TEA presents the annual Thea Awards and the TEA Summit and hosts the annual SATE Conference (Storytelling, Architecture, Technology, Experience). TEA also produces a variety of print and electronic publications, including the TEA/AECOM Theme Index, TEA Annual Directory and Thea Awards Program magazine. Visit http://www.teaconnect.org.