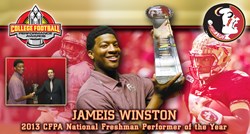 Oh my gosh. It's crazy. It's so beautiful.
Davidson, NC (PRWEB) December 12, 2013
Florida State quarterback Jameis Winston earned the 2013 CFPA National Freshman Performer of the Year Trophy, announced today by College Football Performance Awards. Winston is the fifth Division-I Football Bowl Subdivision player to earn college football's top freshman honor, following Texas A&M quarterback Johnny Manziel (2012), Ohio State quarterback Braxton Miller (2011), former South Carolina running back Marcus Lattimore (2010), and former Oregon running back LaMichael James (2009).
Winston joined CFPA Executive Director Brad Smith and Seminoles.com to accept the award on December 9, 2013 at Doak Campbell Stadium.
"Oh my gosh. It's crazy. It's so beautiful," said Winston. "It's honorable because there are so many great freshmen out there."
"This team is so special because we've got so many people that have different types of roles, and they do it to perfection," Winston added.
Winston is the fourth Florida State player to earn CFPA honors. Greg Reid earned the 2009 CFPA Elite Punt Returner Trophy. Specialists Shawn Powell and Dustin Hopkins earned the 2011 CFPA Punter Trophy and 2012 CFPA Elite Specialist Trophy, respectively.
2013 CFPA FCS National Freshman Performer of the Year:
College Football Performance Awards also recognizes the top freshman performer in the Division-I Football Championship Subdivision. The 2013 winner will join previous FCS Award winners: Sawyer Kollmorgen (Northern Iowa), John Robertson (Villanova), Taylor Heinicke (Old Dominion), and DeNarius McGhee (Montana State).
Jace Amaro Honored:
Texas Tech tight end Jace Amaro earned the 2013 CFPA Tight End Trophy. Amaro produced the strongest tight end performance in CFPA history.
2013 CFPA FCS Awards:
Northern Iowa placekicker Tyler Sievertsen (CFPA Elite Placekicker Award) and Saint Francis University running back Kyle Harbridge (CFPA Elite All-Purpose Award) earned 2013 CFPA FCS Awards for their outstanding career performances.
"I am incredibly proud to accept the CFPA Elite All-Purpose Award on behalf of Saint Francis University Football," said Kyle Harbridge. "When I look back at my career, this award is the perfect symbol to capture all my achievements with the Red Flash. I worked hard for this, and I am humbled to have my name etched into CFPA history along with past winners like Tavon Austin, Colin Kaepernick, and Johnny Manziel."
About College Football Performance Awards:
All CFPA winners are selected based upon objective scientific rankings of the extent to which individual players increase the overall effectiveness of their teams. Twenty-one CFPA winners have been first-round NFL Draft selections.
The 2013 CFPA Awards will be announced January 8, 2014.