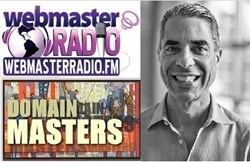 (PRWEB) December 11, 2013
Boca Raton, Florida [PRWEB] December 11th, 2013- WebmasterRadio.FM, the premier B2B online radio network, is pleased to announce the return of the "Domain Masters" radio series on Wednesday December 11th at 5pm Eastern/ 2pm Pacific, with new host domain industry veteran Mike Mann.
Mike Mann is a pioneer in buying and selling Internet domain names, currently owning approximately 350,000 domains. He is the founder of 3 companies featured on the INC 500 list of companies in 2012. (Phone.com, SEO.com, and currently DomainMarket.com)
"When we quietly mentioned that Mike would take over the hosting duties of Domain Masters, we have heard nothing but positive praise from a close number of industry peers," WebmasterRadio.FM Program Director Jorge Hermida said. "Mike will be our voice in the industry during one of the biggest periods in the history of domaining with the ushering of a new revolution of new top-level domain names and how they will shape the future of the web."
"Domain Masters" bring a fresh objective look at the domain industry by discussing domains from many different perspectives, explaining how to utilize domains to drive traffic to your business and discussing power tools of the trade with the power players of the industry every week. Nearly 300 episodes have been produced since the program launched as part of WebmasterRadio.FM's original broadcast lineup in November 2004.
Listeners are able to interact with their questions and comments to the host and guests for each interview, as well as all live WebmasterRadio.FM programming, by following us on Twitter (@webmasterradio), Facebook, LinkedIn, Google+ and our live real-time interactive chatroom. Links to our respective social media pages and our chatroom can be found on our home page.
New episodes of Domain Masters air Wednesdays at 5pm Eastern / 2pm Pacific on WebmasterRadio.FM or on demand in the WebmasterRadio.FM archives inside the Internet Marketing Channel or through iTunes, Stitcher, Zune Marketplace and the WebmasterRadio.FM Mobile Application for iOS and Android Smartphone devices.
About WebmasterRadio.FM
WebmasterRadio.FM lifts the "veiled curtain" of the Internet, bringing the business community together through an interactive radio network. Its listeners are a global group, comprised of everyone from corporate executives and decision makers to small and mid-sized businesses and individual entrepreneurs.
WebmasterRadio.FM's stellar line-up of radio programming includes; "Market Edge" with W2 Group Owner and Chairman Larry Weber , "Purse Strings" with Carmichael Lynch Spong senior principal Maria Reitan and the "CyberLaw and Business Report with Internet Law Center Founder Bennet Kelley.
To tune into WebmasterRadio.FM's live content or check out the show lineup, please visit http://www.WebmasterRadio.FM. All WebmasterRadio.FM programs are available in podcast format through all major podcast portals (including iTunes, TuneIn, Stitcher and Zune Marketplace), as well in archived format on-demand through our proprietary mobile application for iOS and Android smartphone devices.
Media Contact:
Brandy Shapiro-Babin
954-309-5578