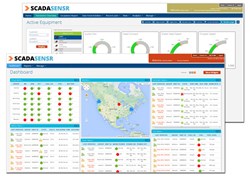 Redwood City Ca (PRWEB) December 11, 2013
SeeControl is announcing the roll-out of ScadaSensr, a SaaS solution for managing and monitoring any ModBus enabled industrial equipment such as pumps, tanks, power systems and more. The built-in, no-coding tools enable rapid creation of applications—tailored to meet any type of equipment's requirements. The ready-to-use, white-labeled solution provides instant web visibility to existing SCADA deployments, allowing users to access information from any device including smart phones and iPad / tablets. ScadaSensr is the most recent application added to the SeeControl Application Store.
ScadaSensr is a ready-to-configure solution to monitor key variables from existing SCADA deployments using Modbus. The solution uses cellular, satellite or fixed line communication for IP connectivity. Using the built-in tools, the user configures parameters of interest on the machine being monitored. All of the collected machine data is presented via a set of user friendly web pages—including tabular reports, charts, gauges and more. The native data is easily shared with other users using built-in export functions. Real-time data processing and consolidation functions provide users with a data analytics package, performing common and often-used operations on the machine data. A robust user-configurable alarming and notification engine provides 24/7 monitoring to inform administrators of critical operating conditions and exceptions as they occur.
The included Android / iPhone application allows users to access real-time data and information from the machines or equipment of interest.
In addition to machine monitoring, the ScadaSensr includes features that allow users to set up location-aware functions related to their assets. A map view provides machine status and location in one easy-to-use view. Alerting can be setup to notify managers when an asset has been moved from a site, providing complete location visibility for their assets.
ScadaSensr includes robust user and account tools to securely and effectively manage user roles and permissions. These built-in functions enable Administrators to securely divide visibility and access to specific assets based on a user's role assigned. The solution is offered as a white-labeled solution to include the end customer's branding, look and feel. SeeControl's flexible platform also allows ScadaSensr to be extended to include additional tailored reporting and analytics as well.
"This turnkey solution provides web access to most SCADA deployments, giving users secure access to machine data and alerts 24/7," said Parthesh Shastri, VP Marketing of SeeControl.
Other important features of ScadaSensr include:

Machine Events
Modbus Support
Analytics
White Labeling
User configurable Dashboard
Alerts and Notifications
Location Reports
Location Alarms – Entry / Exit
Satellite / Hybrid Map Views
24 Hour Real Time Monitoring and Alerting
Historical & Real-time Data view
Charting, Gauges and Report views
Data Export – CSV/ PDF
Easy to access from all modern web browsers and mobile devices including iOS and Android
ScadaSensr can be combined with other SeeControl powered applications in the Application Store, such as asset management, GPS tracking, fleet management, generator monitoring and more. Each customer can set up an application that is optimized for their specific needs and operations.
ScadaSensr is just one of many vertical solutions in the Application Store assembled using the SeeControl Nexus M2M (Machine to Machine) cloud platform. The ScadaSensr solution is available through SeeControl's partner network. It will be demonstrated at the Remote Monitoring and Control conference December 12th and 13th in Las Vegas, Nevada. For more information on ScadaSensr, please visit http://www.seecontrol.com or call 800-540-2850.
About SeeControl:
SeeControl arms Solution Integrators with one-of-a-kind M2M Services & Internet of Things Applications. The Nexus platform organizes and makes sense of data from the Internet of Things with no coding skills required. Scores of customers including ABB, HP and Fujitsu entrust SeeControl with new revenue-generating services for hundreds of thousands of things around the world.