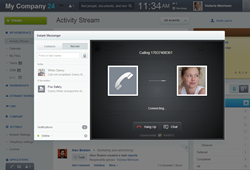 Alexandia, Va (PRWEB) December 13, 2013
Bitrix24, the fastest growing enterprise social network created specifically for small to midsized businesses, has released a new version of its popular cloud service.
The updated CRM now comes with its own activity streams and new reporting tools for leads, managers and invoices. Thanks to integrations with Zingaya's VoxImplant, web phone calls can now be made and recorded directly from Bitrix24 account without any IP-telephony equipment, server or complicated setup.
Improvements have also been made in Bitrix24's productivity and collaboration tools. Bitrix24.Drive, which functions as a free Dropbox alternative for companies that want to have full control over their data, now supports company and group files in addition to personal files.
Data storage for companies that use the Professional plan has been increased tenfold from 100 GB to 1 TB without any change in pricing in order to accommodate increasing reliance of businesses and organizations on Bitrix24 as their primary file server and online document management system.
The Project Management module has been more tightly integrated with Time Management and now allows easy tracking of time spend by each employee on any particular task, making employee workload planning an easy and transparent process. The new Task counter has been introduced to alert managers about tasks and projects that are in danger of not being completed on time.
"This is the forth major update of Bitrix24 this year, and this rapid pace of improvement is one of the reasons that we reached the milestones of both 100,000 company signups and 1 million total users this fall, growing even faster than Yammer before Microsoft's acquisition. Small businesses like the fact that they can now replace Yammer, MS Office, Salesforce, Dropbox, Basecamp and Skype with a single out-of-the-box solution that does all that they do and costs only a hundred dollars per month. Not only is it much cheaper, it solve a lot of interoperability, deployment, administration and shadow IT issues," said Dmitry Valyanov, president of Bitrix Inc.
The new Bitrix24 mobile app comes with an iOS7 friendly design, data caching and an offline mode that lets users access and work on their company intranet and CRM even when no reliable intranet connection is available.
Other improvements include Company Pulse engagement suggestions and integration with MailChimp available via the Bitrix24 marketplace. For the on-premise version of Bitrix24, there is now a new virtual environment that deploys more easily than ever.
About Bitrix24
Bitrix, Inc. (http://www.bitrix24.com) is the maker of a high-end enterprise social network, mobile intranet portal, CRM and collaboration suite available onsite or as a cloud-based service. The company is headquartered in Alexandria, VA and employs over 140 employees spread out in six offices in Kaliningrad, Moscow, Minsk, Kiev, Saint Petersburg and Almaty.