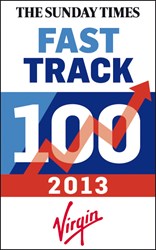 "It is a fantastic achievement for us to have met our target of 50 stores by the end of this year, and with our ambition to have a store in every major town or city, we are well on our way to getting there."
Swindon, UK (PRWEB UK) 11 December 2013
Oak Furniture Land Recognised in Sunday Times 100 Fast Track for a Third Year
Independent retailer of solid hardwood furniture, Oak Furniture Land, has been recognised in the Sunday Times Virgin Fast Track 100 for the third time, ranked 51st in this year's annual league table. This follows the company being ranked in the Profit Fast Track at No. 19 back in April, and the company's rapid growth in the past three years.
The Fast Track 100, now in its 17th year, ranks Britain's private companies, run my entrepreneurs, with the fastest growing sales. The 100 companies in this year's list grew their sales over the last three years by an average of 81% a year to a total of £3.2bn. The typical Profit Track 100 company has an average 3 year profit growth ranging from 40% pa to 200% pa and profits ranging from £3m - £35m.
Originally starting out as eBay UK's largest retailer by turnover in 2006, Oak Furniture Land first appeared in the Fast Track league table in 2010 at number 34, the year that the business expanded from an online model to open its first two stores in Cheltenham and Gloucester. In 2010, it also reported year-on-year growth of over 40% and annual sales jumping from around £2.7million a year in 2006 to over £35million in 2010.
In 2011, when listed for the second time, the company opened a further 10 stores in prime locations across the UK and moved its distribution centre to a 200,000 sq. ft. premises in Swindon to meet demand.
This year saw Oak Furniture Land open a store a month in retail parks across the country, now reaching 50 stand-alone stores, and the business now employs a total of 800 staff. In January, it reported record sales of £85 million and moved its distribution centre once again, this time to a new 500,000 square feet state-of-the-art facility.
Jason Bannister, Founder and Managing Director of Oak Furniture Land comments: "We've had a great run in the past three years and we are proud to see that recognised by the Fast Track league table, alongside many other inspiring companies. It is a fantastic achievement for us to have met our target of 50 stores by the end of this year, and with our ambition to have a store in every major town or city, we are well on our way to getting there."
Companies selling consumer goods made a strong showing on the 2013 league table, with 19 firms operating in this sector. Other prominent industries include recruitment (17), food and drink (12) and business services (12).
For more information on Oak Furniture Land contact Lisa Boustead on 0845 0945 468 or lisa.boustead(at)freshcommunication(dot)co(dot)uk; http://www.oakfurnitureland.co.uk/.
Notes to editors
About Oak Furniture Land
Oak Furniture Land is the UK's largest retailer of solid hardwood furniture, selling high quality oak, mango and mahogany furniture. The company started trading on eBay in 2003 and became eBay's largest retailer in 2006. The company launched stand-alone site http://www.oakfurnitureland.co.uk and in 2010 opened its first store in Cheltenham. Oak Furniture Land now has 50 stores (by Boxing Day 2013) in retail parks across the UK and employs over 700 people. Its headquarters in Swindon includes a 300,000 square feet state-of-the-art distribution centre.
Oak Furniture Land was recognised in 2010, 2011 and 2013 in The Sunday Times Fast Track 100.