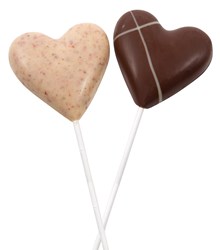 Hancocks Cash and Carry offers a broad selection of romantic sweet and chocolate ideas, with a whole range of both branded and own label items.
Loughborough (PRWEB UK) 12 December 2013
Valentine's Day and luxury chocolates tend to go hand-in-hand, with shoppers always looking to treat their loved ones to some lavishly wrapped treats. As the first big occasion on the spring calendar, retailers will want to develop a bespoke Valentine's gift display to catch the eye of their customers who, in turn, will want to capture the heart of their beloveds.
Specialising in wholesale confectionery, Hancocks Cash and Carry offers a broad selection of romantic sweet and chocolate ideas, with a whole range of both branded and own label items, all suitable for retailers wanting to add a little romance to their confectionery displays.
While pick and mix sweets are enjoyed throughout the year, Hancocks' Purchasing Director Jonathan Summerley recommends that retailers refresh their range to boost sales around Valentine's Day: "Pick and mix has a prominent position in confectionery retailing. By embracing seasonal pick and mix varieties and by imaginatively creating bespoke displays and gift ranges, retailers buying our bulk sweets for Valentine's Day can be rewarded with some significantly high margins."
Wanting to attract romance seekers of all ages, Hancocks offers fun pocket money items such as their own Heart Shaped Chocolate Lollies. At a retail price of 75p, the individually wrapped lollies have two varieties enclosed in a mixed case: the first is a white chocolate lolly topped with strawberry dust, while the second is a milk chocolate lolly sealed with a white chocolate "kiss."
Wholesaled in bags of 200 to be retailed at 5p each, Hancocks' heart-shaped strawberry lollies offer a notable high margin for retailers. While these lollies can be sold individually, they can also be customised by packing them into bespoke bags or containers, making for a unique bespoke gift for sweet lovers.
Novelty items are continually a good selling point during all occasions throughout the year. New for Valentine's Day 2014 is a 100g milk chocolate bar topped with jelly hearts and boxed to open like a gift card, in which the "sender" can even write their own message in the "card." Just £1.49 RRP, this is a very affordable, fun, personalised and unique product, developed especially for this coming Valentine's Day.
Finally, a nostalgic classic, Swizzels' Love Hearts have been given a novel twist. The new Giant Love Hearts Container (with a RRP of £6.99) will be stocked by Hancocks in the run up to February 14th. Among just some of the other Valentine's themed products Hancocks have in stock include Mallow Hearts, Haribo Heart Throbs, Jelly Hearts, Juicy Lips, Pink Hearts, Milk Chocolate Foil Wrapped Hearts and much more.
Offering a vast array of confectionery, with everything from pick and mix to American candy in stock, and with well-known brands and own-brand sweets available in bulk too, Hancocks is the UK's leading specialist in wholesale sweets. Providing sweets shops and other confectionery outlets to stock a vast array of different products, Hancocks' valentine selection is available online at http://www.hancocks.co.uk, or can be bulk purchased at any time in any one of its 20 cash and carries located nationally.