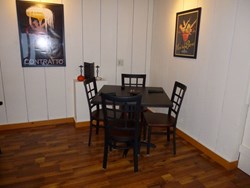 (PRWEB) December 11, 2013
Restaurant Furniture Supply, a leading commercial seating manufacturer, has helped bring an elegant touch to Sauce in Washburn. Wisconsin. The new bistro, which opened its doors recently, serves new American and international cuisine. Dedicated to serving the best ingredients at the proper time, Sauce prepares its meals and food from local sources and only uses produce that is in season.
Sauce is a relaxed, fine dining establishment. They offer an eclectic variety of gourmet dishes to its diners. Tasty appetizers include tempura fried brie and arancini. Favorite entrees include chicken piccata, flat iron pork steak and pan-seared jumbo scallops. They also have entrees for children such as chicken breast or quesadillas.
For wine enthusiasts in Washburn, Sauce offers an extensive wine list from all over the world, including Spain, France, Italy, Germany, Argentina, Chile and California. They also have delicious desserts and new specials.
The owner of Sauce turned to Restaurant Furniture Supply because of their reputation for quality commercial furniture at competitive prices. He ordered Restaurant Furniture Supply's elegant Window Back Metal Chairs with solid wood seats in mahogany finish. To go with them he ordered Custom Self Edge Laminate Table Top with black matte finish.
The Window Back Metal Bar Chairs are currently on sale for only $36 from Restaurant Furniture Supply, which also has a matching bar stool. The frame is available in black, copper vein, silver vein, gold vein or gold. Customers have the choice of a solid wood seat made in the USA or a padded seat. The padded seat is upholstered using American made foam and vinyl or fabric and can also be custom made. "The Window Back Metal Chairs are a popular choice for casual restaurants and bistros," remarked salesperson Chris K. "The metal frames and solid wood seats are very durable, yet the chair has a sophisticated, elegant design."
The Custom Self Edge Laminate Table Tops are made in the USA. They are practical for their durability and aesthetics and versatile enough for any establishment. They come in 5 different finishes and a wide range of shapes and sizes. The wood is 1.5 inches thick. A thicker table top can be special made upon request. Customer can choose and eased edge or a bullnosed edge. Prices start at as low as $40.
To browse Restaurant Furniture Supply's selection of restaurant chairs, bar stools, booths, tables and outdoor furniture visit http://www.restaurantfurniture.net or call a customer service representative at (888) 346-9992.
Sauce is located at 631 W. Bayfield St. in Washburn, WI. They are open for dinner Wednesday – Saturday. They can be contacted at: (715) 685-4558.