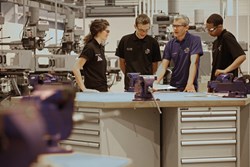 Spectrographic is pleased to be supplying high quality metallurgical testing equipment for the University of Sheffield's AMRC Training Centre.
Sheffield, South Yorkshire (PRWEB UK) 18 December 2013
Spectrographic, a distributor of metallurgical equipment and consumables to the aerospace and other manufacturing industries, has been awarded a contract to supply high quality testing equipment to the University of Sheffield AMRC Training Centre.
The University of Sheffield AMRC is an international recognised centre for advanced machining and materials research for aerospace and other high-value manufacturing sectors. Based at the Advanced Manufacturing Park, located between Sheffield and Rotherham, AMRC includes the original Advanced Manufacturing Research Centre with Boeing, the Nuclear AMRC, and other specialised research centres and business support facilities.
Spectrographic is supplying high quality metallurgical testing equipment for the AMRC Training Centre, which opened in autumn 2013. The new centre is a hub for engineering apprenticeships, degree leadership training and related courses.
Paul Chippendale, Managing Director at Spectrographic, said: "We were delighted to win the contract to supply the AMRC Training Centre with a range of metallurgical equipment. As part of their new training laboratory facilities, we have installed a range of hardness testers and surface measuring equipment. We have also supplied systems for material preparation including a Spectrographic MetCut abrasive cutting machine and an OmegaPol grinding and polishing machine. Additional equipment will be added as the centre develops."
The relationship between the University of Sheffield and Spectrographic provides mutual benefits. Spectrographic is helping to train the students in the use of the equipment, which forms an important part of the engineering syllabus. The university has agreed for Spectrographic to set up a new customer support centre at the AMRC Training Centre, which will allow the company to deliver training and support to a wider audience.
"The AMRC Training Centre is a terrific location for Spectrographic's customers based in the Yorkshire and Midland areas and with good access to the M1," continued Mr. Chippendale. "We will be delivery training, seminars and workshops to clients in the region as well as to students at the AMRC Training Centre. We wish our colleagues at the AMRC all the very best with their new project and we look forward to supporting them in their training of engineers for the future."
Roger Davis-Green, Engineering Trainer at the AMRC Training Centre, commented: "The AMRC Training Centre provides training in the practical and academic skills that manufacturing companies need to compete globally, from apprenticeship through to doctorate and MBA level. We are pleased to be working with Spectrographic. Their products are very high quality, and the equipment training they provide is hugely beneficial to our students."
A series of Spectrographic training events is planned for 2014. Topics will include metallurgical sample preparation, microscopy for material science, automatic hardness testing and 3D microscopy. To register your interest contact Spectrographic on 01274 966173 or info (at) metallography (dot) co (dot) uk or visit http://www.metallography.co.uk.
About Spectrographic Limited
Spectrographic Limited offers a comprehensive range of metallographic products and equipment for material science analysis and quality inspection procedures, as well as specialist advice in material sample preparation, computer based image analysis and microscopic inspection.
Spectrographic is a family-run business, which was originally founded in 1999 as Spectrographic Laboratory Supplies. Now based in Baildon, West Yorkshire, with demonstration laboratories in Bradford, Halifax and Leamington Spa, Spectrographic was set up, and continues to be run, by Managing Director, Paul Chippendale – a skilled metallographer with over 20 years' experience in the industry.
Spectrographic's customers are expert metallurgists working in the automotive, oil and gas and aerospace industries, and for higher and further education establishments, and include organisations such as Rolls Royce, BAE Systems, Siemens and Tata Steel, The University of Oxford, The University of Manchester, The University of Sheffield and DEKRA Industrial.