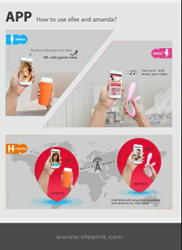 (PRWEB) December 12, 2013
Recently, a UK company EFEELINK has launched a set of toys for long distance lovers. The toys can be connected by the Internet, and help long-distance lovers make love.
According to the CEO of EFEELINK, their products are suitable for both men and women. For the lovers separated from each other, they can remotely control the other one's toy via an app in his or her smart phone through the Internet. When a man uses the device, his partner, separated by thousands of miles, can feel the actions with a durable tremor. Lovers can enjoy real-time interaction with a strong sense of reality through the real-time HD video.
As the Internet extends to every corner of the world, millions of people chat through networks (video chats, audio chats and more) to get love pleasure. The sexual behaviors stimulated by erotic text, sound or pictures can be called as "virtual sex". Many people are not satisfied with virtual sex. EFEELINK has carefully researched the market, and has recently brought its new products.
John, a user of adult toys, says, "EFEELINK provides a very good solution for long distance lovers. However, there are some concerns about the fresh product. Many people can turn to the Internet for more choices. They can find many girl (boy) friends who are EFEELINK users through the 'KChat' app. This may lead to many social problems."
About EFEELINK
EFEELINK, a UK company, is devoted to designing and creating innovative adult products based on modern science and technology. The company wants to help its clients worldwide find the right high-quality products to meet their individual desires. Visit http://www.efeelink.com/ for more details.
Follow EFEELINK at:
FACEBOOK: http://www.facebook.com/efeelink
TWITTER: http://twitter.com/efeelink