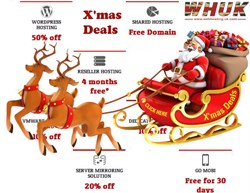 "Christmas is a magical time of year and we'd like to share the festive spirit with some of our best discounts of the year. With great savings on our most popular products, we are sure there will be something for everyone." - Robert King, MD
Leeds, UK (PRWEB UK) 12 December 2013
WHUK, a leading UK web hosting provider, has announced a range of Christmas promotions and savings on a wide-variety of products and services, with discounts up to 50% to take advantage of.
The company announced new and existing customers can take advantage of 50% off the purchase price on new orders on select web hosting products, with many other products on offer at great prices.
In WHUK's enterprise services range, the company is offering 10% off new orders on all dedicated servers, which now start from as low as £49.50. On cloud hosting, new and existing customers can take advantage of 10% off all new orders. If cloud or dedicated hosting is not what you are looking for, WHUK is also offering 15% off all new VPS Hosting plans on quarterly billing periods and higher.
For individual and personal users, WHUK has announced 50% off all WordPress hosting plans – with packages now starting from as little as £20. And for all new shared hosting paid on an annual or biennial basis, WHUK will register your domain for free.
Robert King, Managing Director, WHUK said, "Christmas is a magical time of year and we'd like to share the festive spirit with some of our best discounts of the year. With great savings on our most popular products, we are sure there will be something for everyone."
These offers are valid until midnight on the 5 January 2014.
More information on WHUK's Christmas promotions can be found here.
About WHUK
Established in 2001, Webhosting UK COM Ltd continues to lead the way with innovative products and unmatched customer service now hosting over 2 million websites across its UK network spanning over 30,000 customers worldwide. With enterprise-quality hosting solutions custom designed by in-house network and system engineers, WHUK has the solutions and expertise to deliver.